Texto completo
A 74-year-old Spanish woman who had a history of type 2 diabetes mellitus and high blood pressure, had undergone a kidney transplant in 2013 due to chronic renal failure secondary to diabetes, and was receiving immunosuppressant treatment with tacrolimus (1mg/12h), everolimus (1mg/12h), and prednisone (5mg/24h) was seen in the Dermatology Department for asymptomatic lesions on the right eyebrow that had appeared 2 months earlier and had grown progressively. The patient reported no history of trauma in the affected area. Physical examination revealed 2 painless nodules on the right eyebrow of 1cm in diameter that were the same color as the neighboring skin and showed no signs of associated phlogosis (Fig. 1A and B).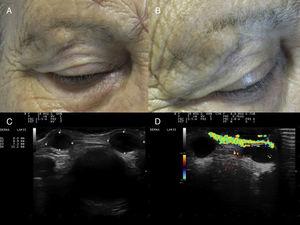 Figure 1.
A and B, Two painless, skin-colored nodules of 1cm in diameter on the right eyebrow, showing no signs of associated phlogosis. C, B-mode skin ultrasound (18-MHz probe) showing 2 well-delimited, rounded, hypoechoic/anechoic subdermal structures with posterior reinforcement and lateral acoustic shadowing. D, Color Doppler skin ultrasound (18-MHz probe) showing increased perilesional flow.
(0,23MB).
Skin ultrasound (MyLab 25 Gold; Esaote SpA, Genoa, Italy) in B mode using an 18-MHz probe revealed the presence in the subdermis of 2 well-delimited, rounded, hypoechoic/anechoic structures with posterior reinforcement and lateral acoustic shadowing (Fig. 1C). Color Doppler mode revealed an increase in perilesional flow (Fig. 1D). There was no evidence of involvement of adjacent muscle or bone. Suspecting simple cysts, the lesions were excised and samples sent for pathologic examination and culture.
Hematoxylin-eosin staining revealed the presence of granulomas with a necrotic center and associated tortuous hyphae, which were visualized by periodic acid-Schiff and silver staining (Fig. 2). Lesion culture was positive for Fusarium species, and polymerase chain reaction sequencing confirmed the presence of Fusarium solani. Based on these findings, a diagnosis of fungal infection with secondary granulomatous reaction was established. Analysis of disease progression ruled out local invasion and associated systemic infection. Following consultation with the infection service it was decided not to administer specific systemic treatment, and complete excision of the lesions was selected as a curative treatment. After 8 months of follow-up the patient remains asymptomatic without lesion recurrence.
Figure 2.
A, Granulomas and multinucleated giant cells (hematoxylin-eosin, original magnification ×200). White arrow indicates one of the multinucleated giant cells. B, Tortuous hyphae (periodic acid-Schiff, original magnification ×400). White arrow indicates one of the hyphae. C, Tortuous hyphae (silver staining, original magnification ×200). White arrow indicates one of the hyphae.
(0,51MB).
Mycetoma is a disease typical of tropical and subtropical regions, where it constitutes a major health problem.1 It is a locally destructive, chronic, slowly progressing and often painless infection of the skin, subcutaneous tissue, aponeurosis, muscle, and bone2 that is difficult to diagnose and treat. It is usually caused by traumatic implantation of fungi (eumycetoma) or bacteria (actinomycetoma). Eumycetoma caused by Fusarium species is rare.1F. solani is a dimorphic fungus that forms chlamydospores and causes an infection in humans known as fusariosis. It is found in contaminated soil and water, and is usually inoculated into the skin of farmers or construction workers, or after accidental trauma. Infection of the face is unusual; the most commonly affected areas are the feet and/or hands.3 Diagnosis is based on identification of the causative organism. This can be facilitated by the use of biopsy and/or ultrasound-guided fine-needle aspiration.
The ultrasound image of subcutaneous eumycetoma can resemble that of a simple cyst with peripheral hypervascularization, and may reveal the presence in the cyst interior of multiple hyperechoic granules,3,4 which can facilitate differential diagnosis with actinomycetoma.4 The so-called dot-in-circle sign, a central hyperechoic focus (dot) within a hypoechoic area (circle), is a very specific ultrasound marker of eumycetoma in soft tissue and bone,5 although the presence of this sign is reported in very few cases in the literature. This finding has also been described in nuclear magnetic resonance images.3
In our patient, skin ultrasound revealed the presence of cyst-like nodules with rich peripheral vascularization, but not the dot-in-circle sign, which could have helped establish diagnosis. It is important to include subcutaneous eumycetoma in the differential diagnosis of lesions of cystic appearance in immunocompromised patients, and to remember that skin ultrasound is a useful tool for distinguishing this lesion type from other skin lesions. In our patient, fungal inoculation may have occurred due to trauma, despite the patient's claims to the contrary.
Conflicts of Interest
The authors declare that they have no conflicts of interest.
Please cite this article as: Combalia A, Giavedoni P, Pigem R, Mascaró Jr JM. Evaluación ecográfica de un eumicetoma subcutáneo ciliar en una paciente inmunodeprimida. Actas Dermosifiliogr. 2018;109:836–838.
Copyright © 2018. Elsevier España, S.L.U. and AEDV