Texto completo
Dear Editor,
Secondary amyloid deposition is occasionally observed in both benign and malignant skin tumors; however, amyloid deposition in association with sweat gland neoplasms is rare.1,2 We herein describe a case of secondary amyloid deposition in pigmented poroma.
A 78-year-old Japanese female visited our department, complaining of a nodule on the foot which appeared one year previously. A physical examination revealed a 13-mm diameter, well-circumscribed brownish nodule on the inner side of the right foot (Fig. 1a). Dermoscopic examination showed dark-brown, globe-like structures with polymorphous and hairpin vessels (Fig. 1b). After making a diagnosis by punch biopsy, the nodule was surgically removed under local anesthesia. Histological features showed cords of tumor cells extending from the epidermis to the mid-dermis (Fig. 2a). The tumor cells had basophilic cells with small round nuclei and cuticular cells with ductal differentiation showing positive CEA staining (Fig. 2b). Increased number of melanocytes was observed within the nests, which were confirmed by Fontana-Masson and MART-1 (Fig. 2c). The tumor nests contained abundant melanin deposition, and melanophages were also observed in the stroma (Fig. 2d). Of note, a number of circumscribed massive eosinophilic materials were detected within the stroma (Fig. 2d), which were positive for Congo-red and Dylon stain (Fig. 2e), as well as anti-cytokeratin CK5 antibody (Fig. 2f). Systemic amyloidosis was denied.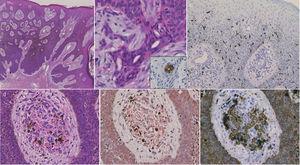 Figure 2.
Histological features showing basophilic tumor nests extending from the epidermis to the mid-dermis (haematoxylin and eosin) (a). Higher magnification shows ductal structures within the nests (b), which were positively stained for CEA (insert). MART-1 stain revealed an increased number of melanocytes within the tumor nests (c). A number of melanin deposition within the tumor nests, as well as melanophages and amorphous materials in the stroma (d). Amorphous materials in the stroma were positively stained with Congo-red (e) and CK5 (f) (original magnification a:×40, b: ×200, c: ×100, d-f: ×400).
(0,94MB).
To date, only a few cases of sweat gland neoplasms with secondary amyloid deposition have been reported.1,2 Poroma with amyloid deposition was reported by Ueo et al.2 Their case developed porocarcinoma in the pigmented hidroacanthoma simplex on the buttock. Interestingly, numerous amyloid globules were detected in the upper dermis in consistent with the pigmented hidroacanthoma simplex nests. They speculated that amyloid was synthesized from abnormal keratin derived from tumor cells, based on positive 34βE12 expression. On the other hand, the present case developed secondary amyloidosis associated with Pinkus type pigmented poroma. Detailed physical examination did not show skin manifestation on either back or extremities, and thus the possibility of primary localized cutaneous amyloidosis was excluded.
Pigmented poroma is a rare variant of poroma involving the non-acral sites in patients of ethnicity other than black.3 Histopathologically, pigmented poroma is characterized by the presence of melanin within the tumor nests and also melanophages in the adjacent stroma, as was observed in the present case. It has been suggested several melanocyte-stimulating factors such as endothelin, stem cell factor, or nerve growth factor, may be associated with melanocyte colonization in pigmented poroma on the non-palmoplantar areas.4
Dermoscopy has been occasionally performed for pigmented poromas, and recent studies demonstrated that vascular structures including arborizing vessels, hairpin vessels, and polymorphous vessels, globule-like structures, and comedo-like openings were the main findings of pigmented poroma.5 Additionally, various dermoscopic structures were also observed. In the present case, dark-brown, globe-like structures with polymorphous and hairpin vessels were observed. Based on the clinical and dermoscopic features, we suspected poroma and carried out biopsy. Histopathology revealed the nests of poroma cells, and furthermore, showed amorphous materials in the stroma. Results of immunohistochemical examination using anti-CK5 antibody were positive in the amyloid deposition areas, suggesting an epidermal origin of secondary cutaneous amyloid deposition in association with pigmented poroma. Further studies are needed to clarify the mechanisms of secondary amyloid deposition in skin tumors.
Please cite this article as: Igari S, Ito T, Ishikawa M, Hiraiwa T, Yamamoto T. Depósito de amiloides secundario en poroma pigmentado. Actas Dermosifiliogr. 2021;112:862–864.