Article information
Abstract
Full Text
Bibliography
Download PDF
Statistics
Abstract
Cutaneous hemangiomas are the most frequent benign tumors in children. When they affect the lumbar and perineal area some cases can be associated with an occult spinal dysraphism. The management of these hemangiomas lack consensus. We report 3 cases of children with lumbosacral and perineal hemangiomas with magnetic resonance image abnormalities and we review the literature to find out the type and timing of tests that should be performed to complete the study in these patients. Ultrasound is typically requested as young as possible, as this imaging technique is not possible 11the posterior spinal elements have ossified. MRI is the gold standard for diagnosing occult spinal dysraphism. According to the literature, the mean age for MRI screening should be around 6 months, when the fat formation in the filum terminale is expanded. In our opinion, an MRI scan should be performed at 6 months of age in every children with lumbar or perineal hemangioma regardless the lesion size, neurological symptoms or the ultrasound results.
Keywords:
Hemangioma
Occult spinal dysraphism
Magnetic resonance image
Resumen
Los hemangiomas infantiles son los tumores benignos más frecuentes en la población pediátrica. Cuando afectan al área lumbar y perineal, algunos casos pueden asociarse a alguna malformación subyacente como una disrafia espinal oculta. El manejo de estos hemangiomas carece de consenso. Describimos 3 casos de niños con hemangiomas lumbosacros y perineales con anomalías en la resonancia magnética y revisamos la literatura para valorar qué pruebas y en qué momento se deben realizar para completar el estudio en estos pacientes. Por lo general, se solicita una ecografía lo más precozmente posible, ya que esta técnica no es posible realizarla una vez que los elementos espinales posteriores se han osificado, lo que generalmente ocurre a los 6 meses de edad. La resonancia magnética es la prueba de referencia para diagnosticar una disrafia espinal oculta. De acuerdo con la literatura, la edad media para este examen debe ser alrededor de los 6 meses, cuando la formación de grasa en el filum terminale se ha visto incrementada. En nuestra opinión, se debería realizar una resonancia magnética a los 6 meses de edad en todos los niños con hemangioma lumbar o perineal, independientemente del tamaño de la lesión, la ausencia de síntomas neurológicos o los resultados de la ecografía.
Palabras clave:
Hemangioma
Disrafia espinal oculta
Resonancia magnética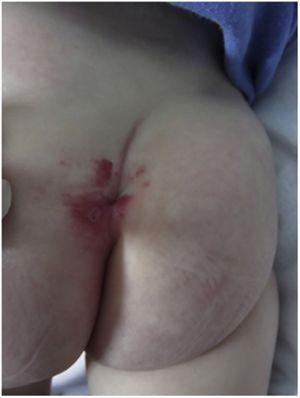 Article
These are the options to access the full texts of the publication Actas Dermo-Sifiliográficas (English Edition)
Contact
Phone for subscriptions and reporting of errors
From Monday to Friday from 9 a.m. to 6 p.m. (GMT + 1) except for the months of July and August which will be from 9 a.m. to 3 p.m.
Calls from Spain
932 415 960
Calls from outside Spain
+34 932 415 960
Email