Full Text
Diagnosis of head and scalp diseases is based, in most cases, on recognizing of the clinical manifestations. Sometimes, these manifestations are not characteristic and we need to resort to more invasive techniques such as a trichogram or biopsy.1 Histological study of the scalp is often difficult to interpret and sometimes inconclusive. Dermoscopy, in contrast, is a noninvasive diagnostic technique that facilitates diagnosis of many hair disorders.2
In this article, we present a case of folliculitis decalvans that led to secondary osteoma cutis (OC) in areas of scarring alopecia.
The patient was a 45-year-old man with an unremarkable personal history who was in follow-up in the dermatology department for scarring alopecia of the scalp of 9 years duration. Treatment with corticosteroids, topical antibiotics, and oral hydroxychloroquine had been administered without success.
The physical examination revealed a plaque of scarring alopecia affecting the vertex and frontal and parietal areas. At the edges, follicular papules and pustules were present as well as tufted hair folliculitis (Fig. 1). Dermoscopy revealed polytrichia, follicular pustules, and milky-red areas with loss of follicular orifices (Fig. 2A). The histopathological study showed chronic granulomatous-histiocytic inflammatory infiltrate in perifollicular regions. In the reticular dermis, this infiltrate occupied the site of the hair stems (Fig. 2B).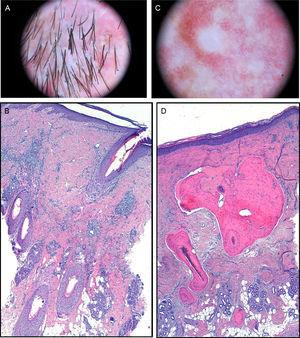 Figure 2.
A, Dermoscopic image. Polytrichia, follicular pustules, and milky-red areas with loss of follicular orifices. B, In the dermis, chronic granulomatous-histiocytic inflammatory infiltrate in perifollicular regions (hematoxylin-eosin×100). C, Dermoscopic image. Whitish areas. D, Mature bone tissue with bone marrow immersed in dermal collagen and subcutaneous cell tissue (hematoxylin-eosin×100).
(0.84MB).
In the area of scarring alopecia, numerous white papular lesions measuring less than 2mm across were observed (Fig. 1). In the corresponding dermoscopic image, only whitish areas could be seen (Fig. 2C). The histopathological study showed mature bone tissue with bone marrow immersed in dermal collagen and subcutaneous cell tissue (Fig. 2D). Head computed tomography showed punctiform cutaneous lesions with a high attenuation compared to calcium (Fig. 3A). The finer the cut the more lesions were observed. The 3-dimensional image showed frontal and parietal lesions (Fig. 3B). In another image, the location of these lesions in the skin could be observed (Fig. 3C). Laboratory analyses, including Ca (24h urine calcium, P, parathyroid hormone, and 25-hydroxy-vitamin D), were normal.
With diagnosis of folliculitis decalvans, a combination of oral rifampicin and clindamycin was prescribed. Given that the OC lesions were asymptomatic, the patient decided not to receive treatment.
Folliculitis decalvans is a neutrophilic scarring alopecia, which is more frequent in young and middle-aged men. The pathogenesis is related to Staphylococcus aureus infection, immune abnormalities, and genetic predisposition. It presents at the vertex and occipital area in the form of 1 or several irregular, atrophic, slow-growing plaques of scarring alopecia with evidence of activity at the edges. Tufted hair folliculitis is typically present, giving a doll hair appearance.3–5
Characteristic dermoscopy findings of this entity include multiple hairs originating from a single, dilated orifice (polytrichia), erythema, scabs and perifollicular eczemas, and milky-red areas without follicular orifices.6 In the histopathological analysis, in the early phases, infundibular dilation is observed, along with intrafollicular and perifollicular neutrophilic infiltrate in the upper and middle parts of the follicle. In advanced phases, the entire follicle is affected and in addition to neutrophils, lymphocytes, histiocytes, plasma cells, and multinucleated giant cells can be seen. Finally, the fibrous tracts replace the hair follicles.7
In cutaneous ossification, deposits of Ca and P are arranged in an organized pattern as if they were in normal bone. Clinically, the lesions are hard, and the histopathological study shows a proliferation of bone tissue with osteoblasts and sometimes osteoclasts. They are classified as primary or secondary forms according to whether prior cutaneous lesions were present. The secondary form is more frequent and has been linked to scarring and inflammatory processes among others, processes which can include folliculitis decalvans. Unlike ossification, the mineral phase in cutaneous calcification is deposited in disorganized fashion and the material is soft and pasty.8
In this case, differential diagnosis should be established with other types of OC, such as plaque OC, a primary and idiopathic form that usually presents with plaque lesions on the scalp. Initially, this was thought to be a congenital process, but acquired cases have been reported.9 Another condition to include in the differential diagnosis is multiple miliary OC in its a primary form or associated with acne. That entity is characterized by multiple hard papules distributed mainly on the face, but also the scalp.10
The optimum treatment for OC is not well established, and given that the lesions are often asymptomatic and are not usually associated with complications, management is usually from an aesthetic perspective. In miliary OC lesions, surgical removal, incision with needle or scalpel, punch biopsy, curettage, laser therapy (erbium:YAG laser and CO2 laser), dermabrasion, systemic and topical retinoids (tretinoin), biphosphonates, and oral antibiotics have all been used, at times in combinations.10
In conclusion, the case concerned a man with folliculitis decalvans and multiple secondary OC (we have not found this association reported in the literature). The clinical presentation resembled plaque OC or multiple miliary OC on the scalp.
Conflicts of Interest
The authors declare that they have no conflicts of interest.