Full Text
Bowenoid papulosis is associated with some types of human papillomavirus (HPV), mainly type 16. Similar to Bowen disease, histopathology reveals squamous cell carcinoma in situ.1 While the term bowenoid papulosis is not included in the 2016 World Health Organization classification of tumors of the penis,2 the clinical and epidemiological characteristics of the disease and its favorable prognosis lead dermatologists to continue to use the classic nomenclature and consider this condition a differential entity.3 Bowenoid papulosis usually manifests as a polygonal planar papular rash on the genital-anal region; however, it may often take on multiple morphologies that should be borne in mind by the physician. We report a case of bowenoid papulosis with an unusual clinical presentation.
The patient was an otherwise healthy 46-year-old uncircumcised man who consulted for a linear lesion on the penis that had first appeared a few weeks previously. He complained of mild pruritus and denied sexual relations outside his habitual partner or injuries in the area. He also denied dysuria or urethral secretion. Physical examination revealed a raised linear lesion that ran parallel to the coronal sulcus along almost all its circumference. It was 1−2mm wide and erythematous-violaceous in color. The lesion was continuous and seemed to be formed by coalescent papules (Fig. 1). There were no additional lesions in the genital-anal or oral areas or palpable enlarged lymph nodes. Biopsy revealed an irregularly acanthotic epidermis with hyperkeratosis, parakeratosis, and increased cellularity from the basal layer to the surface, with loss of maturation in all its thickness. The cells were large, occasionally multinucleated, with hyperchromatic nuclei and mitosis in the upper layers of the epidermis (Fig. 2). p16 immunohistochemistry revealed intense and diffuse nuclear positivity throughout the thickness of the epidermis (Fig. 3).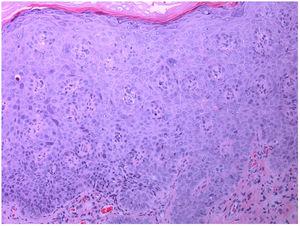 Fig. 2.
Epidermis with irregular acanthosis, hyperkeratosis, hypergranulosis, and squamous cells. Dyskeratosis, hyperchromatic nuclei, and multiple nuclei can be observed. Cellular atypia is observed throughout the thickness of the epidermis (hematoxylin-eosin, original magnification, ×200).
(0.18MB).
Serology testing for syphilis, hepatitis B and C virus, and human immunodeficiency virus was negative.
The patient was offered various options for therapy and chose a more conservative approach. After receiving the patient's consent, we decided to apply topical treatment with sinecatechins 10 % ointment tid. The lesion disappeared completely in 6 weeks, and tolerance of treatment was excellent.
Bowenoid papulosis usually affects young, generally sexually active people between the third and fourth decades of life. The clinical manifestations are polymorphous and comprise macules, papules, and plaques with a flat surface. These are dome-shaped, papillomatous, or verrucous and generally multifocal. While they are frequently pigmented, they may also be erythematous, violaceous, flesh-colored, or leukoplastic.1,3–5
Clinical presentation in the form of linear lesions is very unusual. Our review yielded only 7 cases,1,5–8 thus making the present case the eighth to date. Seven patients were men and only 1 was a woman.6 In men, the lesion tended to affect the coronal sulcus or adjacent area and was circumferential.1,6,7 Since the lesions usually take the form of coalescent individual lesions, the linear configuration may be continuous or intermittent, with the result that isolated papules are also frequently found close to the linear lesion.7 The case we report is almost identical to that reported by Sweidan et al.6 in the sense that it involves a single linear, almost filiform lesion in the area of the coronal sulcus with no satellite lesions, thus potentially facilitating the clinical diagnosis.
The mechanism underlying this presentation of bowenoid papulosis is unknown, although it is thought to be associated with a Koebner phenomenon.6 Thus, it has been speculated that, since most of these lesions appear close to the coronal sulcus, HPV in the area may be more difficult to eliminate, possibly for anatomical reasons. Therefore, its prolonged persistence in the area could favor this presentation.1
Treatment of linear bowenoid papulosis is the same as that of classic disease, which can persist, remit, or recur. Treatment is generally destructive and may comprise conventional surgery, electrocautery, cryotherapy, imiquimod, topical 5-fluorouracil, podophyllin, podophyllotoxin, CO2 laser therapy, and photodynamic therapy.1,2
Sinecatechins ointment is a standard extract of green tea leaves, which contain a mix of polyphenols with antioxidant, immunostimulatory, antitumor, and antiproliferative properties. It is indicated for genital warts in patients aged >18 years.9 Nonetheless, it is curious that, despite the clear involvement of HPV in the etiology and pathogenesis of bowenoid papulosis, we were able to find only 1 patient treated with this approach.10 The ointment was successful and very well tolerated in the case we report, as in the abovementioned case.
While we cannot rule out the possibility of spontaneous resolution, which is well documented in bowenoid papulosis, we believe that the treatment we recommended should become standard in this indication.
Conflicts of interest
The authors declare that they have no conflicts of interest.
Please cite this article as: Allegue F, Fachal C, González-Vilas D, Zulaica A. Papulosis bowenoide lineal. Actas Dermosifiliogr. 2020;111:76–77.