Full Text
Dermatomyositis is an idiopathic inflammatory myopathy that usually progresses with inflammation of the skin and skeletal muscle. However, there are hypomyopathic and amyopathic forms that progress without laboratory abnormalities and/or muscle weakness, respectively.1,2 While the cause is not generally known, some forms can be induced or exacerbated by drugs.3 We report a case of dermatomyositis-like eruption with no muscle involvement associated with hydroxyurea and review specific immunological, clinical, and epidemiological findings.
The patient was a 63-year-old woman diagnosed with essential thrombocytopenia who had been receiving treatment with hydroxyurea since 2010. She was evaluated at the dermatology clinic for a 3-year history of erythematous, scaly lesions on the dorsum of the interphalangeal and metacarpophalangeal joints of the hands, dorsum of the feet, elbows, knees, and presternal area (Fig. 1). No muscular weakness or other remarkable cutaneous or mucosal manifestations were observed.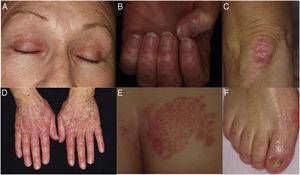 Figure 1.
A, Periorbital heliotrope rash. B, Prominent periungual telangiectases. C, Erythematous, scaly plaque on the knee. D, Erythematous, scaly lesions on the dorsum of the interphalangeal and metacarpophalangeal joints. E, Erythematous, scaly plaque on the buttocks. F, Erythematous, scaly lesions on the dorsum and lateral aspect of the feet.
(0.19MB).
The histopathology findings are shown in Figure 2. The laboratory workup revealed normal results for inflammatory parameters and muscle enzymes. Negative results were recorded for myositis-specific antibodies (anti-Mi2, anti-MDA5, anti–SAE, anti-TIF, anti–NXP-2, anti-t-RNA-synthetase, anti–PMS, anti–SSA/Ro, anti-U1RNP, anti-Pm-Scl, and anti-Ku) and for antinuclear antibodies.
Figure 2.
A and B, Histopathology reveals parakeratosis, mild epidermal atrophy, lymphocytic exocytosis, and foci of vacuolization in the basement layer, with occasional apoptotic keratinocytes (hematoxylin-eosin, original magnification×4,×10). C, Vascular proliferation and mild fibrosis in the dermis. No keratinocyte atypia or overexpression of p53 is observed (hematoxylin-eosin, original magnification×20). D, Abundant interstitial acid mucin deposits can be observed (colloidal iron, original magnification×10).
(0.98MB).
On the basis of these findings, the patient was diagnosed with dermatomyositis-like eruption secondary to treatment with hydroxyurea, and, given the hematology report, we opted to suspend treatment. The lesions were in remission at 3 months, although the increased platelet count obliged us to reintroduce the medication, thus exacerbating the lesions again.
Dermatomyositis secondary to drugs is an uncommon condition. The drugs involved include hydroxyurea, statins, terbinafine, and anti–tumor necrosis factor agents.3,4 With no distinctions between drugs, the forms induced by medications carry a 39% risk of muscle involvement, which is lower than in the classic forms, and up to 50% of patients also have cancer or an underlying autoimmune disease. Furthermore, the disease usually affects patients taking multiple medications for their underlying condition.5 Consequently, diagnosis is truly challenging for 2 reasons: it is difficult to determine which drug is involved and it is complicated to determine whether dermatomyositis is related to the drug or to the underlying cancer or rheumatic disease. In addition, given that paraneoplastic dermatomyositis is amyopathic in almost 60% of cases6 and that muscle involvement in drug-related forms is uncommon, the differential diagnosis is, if anything, somewhat more complex.
In the first place, it is important to know which drug is responsible. Hydroxyurea is the most commonly involved drug (50% of cases)4 and presents specific features with respect to other drugs, as shown in Table 1.5 In clinical terms, in addition to the typical cutaneous manifestations of classic dermatomyositis, the presence of cutaneous-mucosal manifestations associated with hydroxyurea (eg, xerosis, atrophy, stomatitis, ulceration, and melanonychia) is habitual.3–5 Histopathology findings are indistinguishable from those found in classic dermatomyositis, although, in some cases, there have been reports of changes suggestive of hydroxyurea-induced squamous dysplasia, such as keratinocyte atypia and overexpression of p53. According to some authors, the condition carries a risk of progression to cutaneous squamous cell carcinoma, which would require close follow-up of patients in the long term and withdrawal of the drug when dermatomyositis appears.4
Table 1.
Main Differences Between Hydroxyurea-Associated DM-like Eruption and DM Caused by Other Drugs.
|   | Hydroxyurea-Associated DM  | DM Associated With Other Drugs  |
| --- | --- | --- |
| Median age at diagnosis  | 61  | 50  |
| Median time since administration of drug until onset of DM, mo  | 60  | 2  |
| Positive ANA titer, %  | 16  | 54  |
| Muscular symptoms, %  | 0  | 79  |
| Underlying neoplasm, %  | 69  | 18  |
| Treatment  | Suppression of the drug  | Suppression of the drug±immunosuppressant  |
Abbreviations: ANA, antinuclear antibodies; DM, dermatomyositis.
Source: Seidler and Gottlieb.5
Immunosuppressive treatment is not usually necessary, and suspension of hydroxyurea is generally sufficient to achieve remission of the clinical condition. However, immunosuppressive treatment is necessary in cases secondary to other drugs.
The second challenge is to determine whether the underlying neoplasm itself or a drug is responsible for the clinical condition. This is especially difficult with hydroxyurea, since it is not associated with muscle involvement and, as we have already said, paraneoplastic dermatomyositis is amyopathic in most cases.6 The most indicative parameter for differentiating this condition seems to be the time between onset of dermatomyositis and diagnosis of the tumor. Paraneoplastic symptoms generally appear during the first 2 years after diagnosis of the tumor, especially during the first 7 months. In the case of drug-associated cases, only 37% are diagnosed during the first 3 years, whereas 78% appear during the first 5 years.5 In the present case, the interval was 40 months, which is far from the mean time reported for paraneoplastic cases.
In conclusion, dermatomyositis-like eruption associated with hydroxyurea is not a true myopathy for 2 reasons: first, it is not an immune-mediated condition, as seen in the low frequency of antinuclear antibodies; and second, it is not associated with muscle weakness. While the etiology is unknown, some authors defend the presence of factors other than those of the drug itself, such as the tumor in which the drug is used as treatment and the potential role of the interaction between UV radiation and hydroxyurea, which could indicate a phototoxic reaction.4,5 Similarly, it is worth pointing out the risk of developing cutaneous squamous cell carcinoma.4 Lastly, it is important to distinguish the eruption from amyopathic paraneoplastic dermatomyositis owing to its better prognosis and different therapeutic management.
Conflicts of Interest
The authors declare that they have no conflicts of interest.
Please cite this article as: Moreno-Artero E, Paricio JJ, Antoñanzas J, España A. Erupción dermatomiositis-like en una paciente tratada con hidroxiurea. Actas Dermosifiliogr. 2019;110:64–67.
Copyright © 2018. Elsevier España, S.L.U. and AEDV