Article information
Abstract
Full Text
Bibliography
Download PDF
Statistics
Tables (4)
Table 1. Demographic Variables, Clinical and Pathologic Characteristics of Primary Melanomas, and Details of Sentinel Lymph Node Biopsy.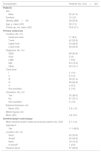 Abstract
Background and objective
Sentinel lymph node (SLN) biopsy is a staging, not a therapeutic, procedure. The benefits of SLN biopsy have been more modest than expected and could be outweighed by the risks, which remain unclear. The aim of this study was to describe complications and sequelae observed in patients with melanoma who underwent routine SLN biopsy at our hospital.
Patients and methods
In this retrospective cohort study, we performed a chart review of all patients with melanoma who underwent SLN biopsy at our hospital in Vigo, Spain, between January 2011 and July 2017.
Results
In the period analyzed, 124 SLN biopsies were performed. Over a mean follow-up of 52.7 months (range, 10.8-88.7 months). A percentage of 37.9 of the patients experienced complications. The complication rate after excluding patients who underwent lymph node dissection was 30.9%. In the full cohort group, there were 14 scar-related complications (11.3%), 13 surgical wound infections (10.5%), 12 lymphedemas (9.7%), 11 seromas (8.9%), 4 hematomas (3.2%), 4 wound dehiscences (3.2%), 2 cases of lymphorrhagia (1.6%), 2 cases of sensitivity alteration (1.6%), and 1 urinary tract infection (0.8%). The most common sequela was lymphedema. Sequelae were on record for 15.3% of patients in the full cohort (7.5% of the patients who did not undergo lymphadenectomy). Smoking was associated with a 33% to 73% increased risk of complications. The main limitation of this study is the risk of information bias due to incomplete follow-up.
Conclusions
SLN biopsy is a melanoma staging procedure that causes complications and sequelae. Recommendations for its use in clinical practice guidelines should be revised and the risks and benefits carefully evaluated in each case. Smokers, in particular, seem to have a high risk of complications. Patients with melanoma could benefit greatly from the development of less invasive staging tools.
Keywords:
Sentinel lymph node biopsy
Melanoma
Complications
Sequelae
Resumen
Antecedentes y objetivo
La biopsia selectiva de ganglio centinela (BSGC) no tiene utilidad terapéutica y solo se utiliza por su valor pronóstico. Su beneficio ha sido menor del esperado, por lo que los riesgos cobran más valor y no están claramente definidos. Nos hemos propuesto describir las complicaciones y secuelas sufridas por pacientes con melanoma expuestos a la técnica de BSGC en la práctica clínica habitual.
Pacientes y métodos
En este estudio de cohortes retrospectivo unicéntrico hemos recogido los datos de todos los pacientes diagnosticados de melanoma y sometidos a la BSGC en nuestro centro (Vigo) entre enero de 2011 y julio de 2017, revisando sus historias clínicas.
Resultados
Se realizaron 124 BSGC. El tiempo de seguimiento medio fue de 52,7 meses (rango 10,8-88,7 meses). El 37,9% de los pacientes presentaron complicaciones. Excluyendo a aquellos en los que se realizó linfadenectomía, el porcentaje de complicaciones fue del 30,9%. De las complicaciones totales, 14 (11,3%) fueron alteraciones en la cicatrización, 13 (10,5%) infecciones de la herida quirúrgica, 12 (9,7%) linfedemas, 11 (8,9%) seromas, 4 (3,2%) hematomas, 4 (3,2%) heridas dehiscentes, 2 (1,6%) linforragias, 2 (1,6%) alteraciones sensitivas y una (0,8%) infección del tracto urinario. El 15,3% de los pacientes presentaron secuelas, siendo el linfedema la más frecuente. Entre los pacientes sin linfadenectomía completa presentaron secuelas el 7,5%. El tabaquismo se asoció con un aumento en el porcentaje de complicaciones de un 33 a un 73%. La principal limitación de este estudio es que pueda haber un sesgo de información que infravalore los resultados por un seguimiento incompleto de los pacientes.
Conclusiones
La BSGC es una técnica de estadificación del melanoma no exenta de complicaciones y secuelas. La recomendación de su uso rutinario en las guías de práctica clínica debería revisarse, sopesando los riesgos y los beneficios en cada caso. En especial tienen un alto riesgo de presentar complicaciones los pacientes fumadores. El desarrollo de otras herramientas de estadificación menos invasivas puede ser de gran utilidad para los pacientes con melanoma.
Palabras clave:
Biopsia selectiva de ganglio centinela
Melanoma
Complicaciones
Secuelas
Article
These are the options to access the full texts of the publication Actas Dermo-Sifiliográficas (English Edition)
Contact
Phone for subscriptions and reporting of errors
From Monday to Friday from 9 a.m. to 6 p.m. (GMT + 1) except for the months of July and August which will be from 9 a.m. to 3 p.m.
Calls from Spain
932 415 960
Calls from outside Spain
+34 932 415 960
Email