Texto completo
Medical history
A 78-year-old man with no relevant past history was admitted to our department with extensive areas of denuded skin, involving more than 40% of the body area, which had appeared approximately 3 weeks earlier (Fig. 1). The patient had taken no medication in recent months and had undergone no recent infectious processes. The rash began as erythema, edema, and flaccid blisters in areas of the face, neck, and chest exposed to sunlight, and gradually spread to the torso and extremities, with involvement of the palms and soles. The rash was associated with conjunctival injection, hemorrhagic cheilitis, and erosions in the oral mucosa. Laboratory testing revealed hemoglobin levels of 7.9g/dL, an erythrocyte sedimentation rate of 47, a C-reactive protein level of 8.9, and an antinuclear antibody titer of 1:2560, positive for antinucleosome antibodies. The patient was treated with high-dose mycophenolate mofetil, intravenous immunoglobulins, and vancomycin for colonization by Staphylococcus aureus, with complete clinical resolution. Three months later, violaceous erythema appeared on the previously involved area exposed to sunlight (Fig. 2).
Histopathology
The histologic study of the neck revealed vacuolar degeneration in the basement membrane of the epidermis, isolated apoptotic keratinocytes, a mild mucin deposit on the dermis, and a lymphocytic superficial perivascular and periadnexal infiltrate. The direct immunofluorescence (DIF) study revealed fine granular linear positivity in the dermoepidermal junction for IgG, IgA, IgM, C3, and C1q (Fig. 3).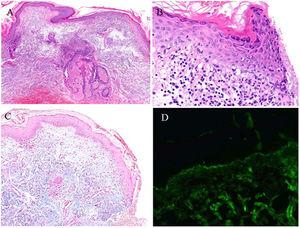 Figure 3.
Histologic study of the skin biopsy taken from the neck. (A) High-magnification image showing perivascular and periadnexal lymphocytic infiltrate. (B) Greater detail of the epidermis showing vacuolar degeneration and some apoptotic keratinocytes. (C) Staining with alcian blue showing mucin deposits in the dermis. (D) Direct immunofluorescence study with granular linear deposit of C3 in the basement membrane.
(0,13MB).
What is the Diagnosis?
Toxic epidermal necrolysis-like cutaneous lupus erythematosus.
Clinical Course and Treatment
Cutaneous lupus erythematosus was diagnosed, with toxic epidermal necrolysis-like manifestation as the debut of the disease and treatment with 200mg hydroxychloroquine every 12hours and 15mg of methotrexate weekly was prescribed. The patient presented adequate control of the disease after 8 months of follow-up.
Comment
A rash similar to Stevens-Johnson syndrome (SJS) or toxic epidermal necrolysis (TEN) in patients with acute or subacute lupus erythematosus is a diagnostic challenge. Epidermal damage similar to that which occurs in TEN has been described in other processes that are not drug-related, such as lupus erythematosus, pseudoporphyria, and graft-versus-host disease. Ting et al.1 therefore proposed the term acute syndrome of apoptotic pan-epidermolysis (ASAP) to cover entities with large-scale peeling of the epidermis as the result of intense apoptosis of the basement epidermal cells.
SJS/TEN-like lupus is a painful rash with erythema, edema, and blister formation, with no clear pharmacologic or infectious trigger. It appears initially in areas exposed to sunlight and extends symmetrically, often involving the palms and soles. Nikolsky sign is usually positive and involvement of the mucosa is variable and usually mild.2 Epidermal necrosis may appear on healthy skin or on pre-existing lesions of acute or subacute lupus erythematosus. Progression to epidermal peeling has been reported to be slower in SJS/TEN-like lupus than in drug-induced TEN.3 Most patients have a prior diagnosis of lupus erythematosus, activity data for the disease, and meet criteria for systemic lupus erythematosus,4 although in up to 35% of cases, TEN-like lupus is the primary manifestation of the disease. The age range is very broad, from adolescence to advanced age and women are predominantly affected. The prognosis is usually better than in classic TEN.5 All patients have specific positive autoimmunity for lupus erythematosus and a high antinuclear antibody (≥1:1.280) titer is characteristic.6
Histology revealed different degrees of necrosis and epidermal peeling, together with some findings characteristic of lupus erythematosus, such as vacuolar degeneration, isolated apoptotic keratinocytes, perivascular and periadnexal infiltrate, and the presence of mucin in the dermis. DIF usually reveals a granular deposit on the basement membrane of more than one immunoglobulin such as IgG, IgM, C3, and IgA.
In conclusion, SJS/TEN-like lupus is a severe manifestation of lupus erythematosus that is difficult to diagnose because of its similarity to classic TEN. In our patient, the lack of triggering drugs, the autoimmune study, and the development of new lupus lesions on previously affected areas exposed to sunlight made it possible to establish the definitive diagnosis.
Conflicts of Interest
The authors declare that they have no conflicts of interest.