Texto completo
To the Editor:
Tyrosine kinase inhibitors (TKIs) are being increasingly used in oncology, replacing in many cases classic chemotherapy drugs. Reasons for their growing use include their superior efficacy and lower rates of adverse effects. Nonetheless, inhibition of molecular targets can result in previously undescribed adverse drug-specific reactions with an unknown etiology.1 Pazopanib is a TKI indicated for the first-line treatment of advanced clear cell renal carcinoma (ccRCC) and advanced ccRCC refractory to cytokine therapy (interleukin-2 or interferon-α). It is also indicated for adults with certain subtypes of metastatic soft-tissue sarcoma that are refractory to chemotherapy or that have progressed within 12 months of adjuvant or neoadjuvant chemotherapy.2 The drug exerts a powerful inhibitory effect on vascular endothelial growth factor receptors (VEGFRs), platelet-derived growth factor receptors, and the stem cell factor receptor c-KIT.2 A range of cutaneous adverse effects have been described for pazopanib, including hair depigmentation, alopecia, and nonspecific rashes.2,3
We report what is, to our knowledge, the first case of scrotal erythema associated with the use of pazopanib.
Case report. A 66-year-old man with a history of diabetes and metastatic ccRCC under treatment with pazopanib for 3 months presented with well-circumscribed erythematous, scaling plaques of 1 month's duration in the inguinal scrotal area (Fig. 1A, B). Bacterial and fungal cultures were negative. Histologic examination of a biopsy specimen showed psoriasiform dermatitis with exocytosis of neutrophils into the epidermis (Fig. 1C, D). Despite treatment with oral antihistamines and oral and topical corticosteroids, the lesions spread to the trunk and upper and lower extremities (Fig. 2A–C). Given the worsening of the lesions and their significant effect on the patient's quality of life and failure to respond to treatment, it was decided to interrupt treatment with pazopanib. This resulted in significant clinical improvement, with resolution of practically all the lesions (Fig. 2D, E). The scrotal lesions were the last to clear (Fig. 2F). Based on the clinical and histologic findings and the improvement observed following withdrawal of pazopanib, the diagnosis was TKI-induced toxic drug eruption.
Figure 1.
Clinical and histologic findings. A, Erythematous plaque with well-defined borders in the pubic area. B, Scrotal erythematous plaque affecting both sides of the groin area, with a more pronounced erythematous scaling border. C, Epidermal acanthosis with extensive parakeratosis and a perivascular lymphocytic infiltrate (hematoxylin-eosin, original magnification ×200). D, Epidermal acanthosis with neutrophilic spongiosis and perivascular lymphocytic dermal infiltrates with eosinophils (hematoxylin-eosin, original magnification ×200).
(0,43MB).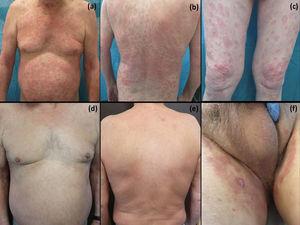 Figure 2.
Clinical progression. Maculopapular rash on the trunk and upper limbs (A, B). Annular erythematous, edematous lesions with a more pronounced border and slight scaling (C). Resolution of lesions on the trunk and limbs within 2 weeks of interruption of pazopanib (D, E) and improvement of inguinal scrotal lesions (F).
(0,18MB).
Targeted therapy drugs can cause cutaneous adverse effects. The effects caused by TKIs are quite specific and are characterized by highly variable clinical manifestations and in most cases are dependent on dose and treatment duration.1 Scrotal erythema is an uncommon cutaneous reaction consisting of well-circumscribed pruritic erythematous plaques, generally located in the scrotal area, although they can spread to the rest of the genital area, including the groin. Scrotal erythema has been described in patients treated with sorafenib, sunitinib, and cabozantinib,4,5 but this is the first time it has been reported for pazopanib. The only specific changes reported by the few histopathologic studies that have investigated scrotal erythema are acanthosis and parakeratosis.6,7 The pathogenic mechanisms are unknown, although it has been postulated that VEGF-induced neovascularization and increased vascular permeability and hypoxia-inducible factor 1α may have an important role; nonetheless, as well known, the administration of VEGF inhibitors involves a feedback mechanism that results in increased plasma and tissue VEGF levels.6,7
Scrotal erythema is one of the lesser common cutaneous adverse effects described for TKIs. Lee et al.,4 in a series of 109 patients treated with sorafenib, reported adverse effect rates of 48% for palmoplantar reactions, 26% for alopecia and stomatitis, and 1.83% for scrotal erythema.4 In a series of 41 patients treated with cabozantinib, Zuo et al.5 reported rates of 54% for palmoplantar reactions, 44% for hair depigmentation, 20% for xerosis, and 15% for scrotal erythema or ulceration. Iacovelli et al.8 also described a case of vulvar pruritus and pain associated with local erythema following the administration of sunitinib.8
The diagnosis of scrotal erythema is essentially clinical, and it is important to be familiar with this entity to ensure correct diagnosis and appropriate treatment. Proposed treatments include physical measures to reduce skin friction and pressure, barrier creams and ointments,5 and as a last alternative, dose fractionation or reduction, or, if this fails, temporary interruption.6,7 Scrotal erythema frequently recurs after reintroduction of the drug, requiring thus in some cases definitive interruption.4,5 A range of conditions including trauma, infection, inflammation, and tumors should be contemplated in the differential diagnosis, in particular allergic or irritant contact dermatitis, atopic dermatitis, psoriasis, certain ichthyoses, Bowen disease, extramammary Paget disease, and dermatophytosis.9 It is also important to rule out red scrotum syndrome, a chronic disease of unknown etiology that follows a similar course to scrotal erythema. Histologically, it shows telangiectasias without a significant inflammatory infiltrate, findings that correspond to erythromelalgia- or rosacea-like neurogenic vasodilation.9 Diagnosis is established by ruling out all other possibilities. Red scrotum syndrome requires specific treatment; oral carvedilol and topical timolol have been shown to be effective.9,10 Other treatments, including topical calcineurin inhibitors, oral doxycycline, and oral gabapentin, have been used, but with less success.9
More studies are needed to study the correlation between the administration of pazopanib and the appearance of scrotal erythema. Proper clinical follow-up and treatment is also needed to prevent dose reductions and treatment interruptions, but these are sometimes the only options for patients who develop toxic drug reactions.
Conflicts of interest
The authors declare that they have no conflicts of interest.
Please cite this article as: Pons Benavent M, Silva Díaz E, Guillén Climent S, Monteagudo Castro C. Eritema escrotal como manifestación inicial de toxicodermia por pazopanib. Actas Dermosifiliogr. 2021;112:277–279.