Texto completo
CASE PRESENTATION
A man in his 80s presented with a 7-month history of progressive facial swelling that started in the cheeks and extended to the eyelids and then to the whole face, predominantly on the left side. He had not received treatment for his current complaint. The patient had a history of type 2 diabetes controlled with metformin, and a slightly elevated prostate-specific antigen, with no history of other dermatological conditions.
On physical examination, solid, pitting edema involving his entire face (including eyelids and partially the scalp) associated with erythema was observed (Figure 1). There were no other lesions in the total skin examination and the rest of the physical exam was unremarkable. A biopsy specimen from his cheek was obtained where a poorly circumscribed dermal tumor extending into the subcutaneous tissue composed of thin vessels lined by prominent endothelial cells exhibiting cellular atypia and proliferation on the luminal side. The dilated vessels extended between dermal collagen bundles and were accompanied by inflammatory cells, predominantly small lymphocytes and plasmocytes.
Immunohistochemistry markers were positive for CD31, FLI1, CD34 and D240 on the lining endothelial cells of the dilated vessels, with a proliferation index (Ki67) of 70%. HHV-8 was negative. (Figure 2).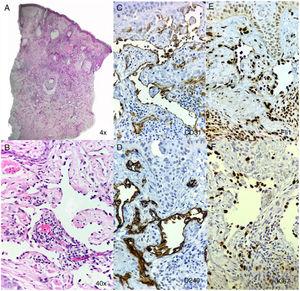 Figure 2.
A. Panoramic view of the tumor extending through the dermis. B. The tumor composed of thin vessels lined by prominent endothelial cells exhibiting cellular atypia on the luminal side. C-D Immunohistochemistry showing vascular and endothelial differentiation, also high proliferation index.
(0,2MB).
DIAGNOSIS
Idiopathic angiosarcoma
DISCUSSION
Idiopathic angiosarcoma of the head and neck (IAHN) is one of the three main clinicopathological subtypes (angiosarcoma complicating lymphedema and postirradiation angiosarcoma) described in 1987.1,2 This type of angiosarcoma commonly involves the upper part of the face or the scalp of elderly men.3 The lesions may be single or multifocal, violaceous nodules, plaques or macules representing infiltrating areas, usually they become markedly more violaceous and bloated when the head-tilt maneuver is performed (placing the head below the level of the heart).1,4 The size usually ranges between 0.8 – 8cms but larger tumors have been recorded.4
There have been other clinical presentations of IAHN including recurrent angioedema of the face, a rosacea-like eruption, rhinophyma-like eruption or an inflammatory process.4 IAHN presenting as persistent swelling of the face has been reported and,5–7 even thought it is rare, it is an important differential diagnosis of this acquired syndrome that includes infectious (leprosy, tuberculosis, lymphedema secondary to herpes infection), inflammatory (rosacea, Morbihan disease, acne, Melkersson-Rosenthal syndrome, angioedema), neoplastic (cutaneous lymphomas, metastases) and miscellaneous disorders (amyloidosis, scleromyxedema, Wells syndrome, pseudolymphoma, post-operative and post-radiotherapy states).8
Clinical suspicion must be confirmed with histopathology and immunohistochemistry.3 Histopathology is similar in all the types of angiosarcoma, and is highly variable depending on its differentiation.1 They are characterized by irregular, meshwork of anastomosing dilated vessels that dissect dermal collagen bundles and skin appendages usually involving the deep subcutaneous tissue.3 The lining endothelial cells appear hyperchromatic and pleomorphic that usually protrudes into vascular lumina. Immunohistochemical markers are of vascular origin, cytoplasmic CD31 and CD34 are the most frequently used for diagnosis, for a more sensitive diagnosis other nuclear inmunohistochemical markers such as ERG and FLI1 may be used.1 Additionally, D2-40 and VEGFR-3, lymphatic markers are expressed.1
Currently, surgery (3cm margins) with subsequent radiotherapy is the mainstay of treatment.1,3 Regarding chemotherapy, studies are inconsistent, paclitaxel and doxorubicin-based regimens are considered the best choice.1,4 New targeted cancer therapies (tyrosine kinase-pazopanib, sorafenib- and VEGF inhibitors-Bevacizumab-) have been used for angiosarcoma but the studies have shown conflicting results.1,4 Treatment of facial swelling IAHN is extrapolated from studies of other frequent variants, but surgery is not an option given the difficulty of the approach.
It is important to consider IAHN as a differential diagnosis of solid progressive pitting edema of the face as it alters the patient's life prognosis due to ineffective and poorly studied treatment options. Our patient is currently treated with radiotherapy, with no progression of the disease after 6 months. Upcoming studies regarding new targeted cancer therapies may change its prognosis, even in extensive and highly proliferative disease such as in the case of our patient.
Please cite this article as: Chalela JG, González MI, Ordóñez Rubiano MF. Edema facial con fóvea, un importante diagnóstico diferencial. Actas Dermosifiliogr. 2020;111:65–66.