Abstract
Propranolol a non-selective beta-blocker, remains the first line of treatment for problematic infantile hemangioma. However, although rarely, a subset of patients experience undesirable side effects, raising interest in other selective beta-blockers. We present a large case series of 46 infants treated successfully with oral atenolol, a selective beta-1 blocker.
Keywords:
Vascular anomalies
Vascular tumors
Infantile hemangioma
Atenolol
Propranolol
Beta-Blockers
Systemic treatment
Resumen
El propranolol, un betabloqueante no selectivo, sigue siendo la primera línea de tratamiento para el hemangioma infantil problemático. Sin embargo, aunque poco frecuente, un subgrupo de pacientes experimenta efectos secundarios indeseables, lo que despierta el interés sobre otros beta-bloqueantes selectivos. Presentamos una amplia serie de casos de 46 lactantes tratados con éxito con atenolol, un bloqueante selectivo beta 1.
Palabras claves:
Anomalías vasculares
Tumores vasculares
Hemangioma infantil
Atenolol
Propranolol
Tratamiento sistémico
Beta-Bloqueantes.
Texto completo
Introduction
Infantile hemangioma (IH) is the most common benign tumor of infancy.1,2 The mainstay treatment for problematic IH to date is oral propranolol, a non-selective beta-blocker.2 However, a minority of patients undergoing this treatment experience undesirable side effects, which limit its use.3–5 The current report describes a multi-center experience with oral atenolol, a selective beta-1 blocker, in 46 patients with IH, demonstrating its efficacy and side effects.
Materials and methods
Forty-six infants treated between August 2016 and March 2018 were included from two National Institutes of Pediatric Health in Lima, Peru. All IH required treatment for functional risk, cosmetic disfigurement, and lack of response to prior treatments or side effects due to propranolol. This study was not assessed by and ethical committee review. The parents of the patients received information about the effects and side effects of the treatment and gave their consent before starting treatment (Figs. 1–2). Physical examination, baseline electrocardiogram and a pediatric cardiologist evaluation were required for all patients started on atenolol. During follow-up heart rate and blood pressure were registered in every visit.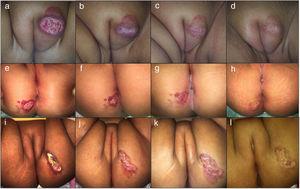 Fig. 1.
Clinical photographs of a 7-month-old girl with a mixed focal ulcerated IH of the major labia and two 4-month-old girls with a superficial focal ulcerated IH of the buttocks treated with oral atenolol showing changes in the color, size and wound closure at baseline (a,e, i), 2 weeks (b,f,j), 4 months (c,g,k), and 6 months (d,h,l).
(0,31MB).
Treatment with oral atenolol 1mg/kg in a daily dose was indicated in all patients in an outpatient environment. Atenolol dosage was adjusted according to weight gain in every monthly control and if inadequate response was observed, the dosage was increased to a maximum of 3mg/kg. Controls with photographic documentation at baseline, 2 weeks and monthly until the end of treatment were performed. Clinical involution was assessed in every control in the outpatient clinic evaluating color change, softening upon palpation and size reduction supported by clinical photographs. Treatment outcome was determined as complete involution; (presence of telangiectasia or residual fibroadipose tissue), partial regression and no response. Side effects were recorded in every visit.
Results
The study consisted of 46 infants, 35/46 (76,1 %) females and 11/46 (23,9 %) males presenting with a total of 55 IH. Sixty-one percent (61,8 %) of IH were located in the head and neck area, 16,4 % extremities, 14,5 % genitals and 7,3 % trunk. By type, 60 % of IH were superficial, 32,7 % mixed and 7,3 % deep. Of all IH, 12,7 % presented ulceration. Four patients in our series had undergone treatment with propranolol suspended on account of side effects. The mean age at the start of the treatment with atenolol was 4,35 months (range of age between 1 and 34 months).
Treatment duration lasted on average 6,4 months (range 4–17 months). All patients responded to the treatment with oral atenolol. Complete involution in 61,8 % and partial regression in 38,2 % of patients was observed. Ulcerated IH presented complete wound closure at a mean time of 16,4 days (Fig. 1). No recurrence was observed after discontinuation of treatment. Twenty-three percent (23,9 %) of patients presented mild side effects. The main side effect reported was limited to mild transient diarrhea. Only one patient presented mild sleep disturbance at the start of treatment with spontaneous resolution. No adverse events such as hypoglycemia, bronchospasm, bradycardia, or hypotension were reported.
Discussion
Since its FDA approval in 2014, propranolol, a lipophilic, non-selective beta-adrenergic blocker, remains the mainstay treatment for IH.1,2 However, propranolol rarely may present undesired side effects and thus the interest for alternatives with similar efficacy have been considered recently.3,4 Atenolol is a hydrophilic, selective beta-1 blocker and its mechanism of action on IH is currently unknown.4,5 Several advantages in comparison with propranolol however have been observed. First, by avoiding beta-2 receptors, bronchial hyperreactivity and hypoglycemia are avoided. Second, its hydrophilic property reduces the passage to the blood brain barrier and consequently reduces sleep disturbances.6 Atenolol is also administered once daily and therefore provides a better patient adherence to the medication.4–8
Previously, the only randomized comparative study of atenolol versus propranolol, demonstrated similar efficacy with fewer side effects in regards with respiratory bronchospasm.4 Subsequent studies have sustained similar consistency with these results.5,7,8 In our case series, we achieved to demonstrate great results with atenolol while no adverse side effects were noted. Another interesting result is the rapid response in the seven ulcerated IH with atenolol. Although it is a small subgroup of our treated IH, comparatively a previous study showed on average 8 weeks fo full healing of the wound.9 All our ulcerated IH were additionally indicated zinc sulfate 1 % (15ml in 50ml of water) 2 times daily as topical cures, until complete epithelization was achieved.
Conclusion
We present a non-randomised, non-blinded case series of 46 patients with IH treated successfully with oral atenolol. Our findings are based on clinical observations. Taking into account these limitations, oral atenolol has proved to be an effective and safe alternative for problematic IH.
We propose atenolol as a possible first line treatment. Even though our study has its limitations, it serves to provide further clinical evidence for future formal comparative studies to assess the effectiveness of atenolol versus propranolol to verify our findings.
Acknowledgments
We thank our patients' parents for their cooperation, support, and for providing their consent regarding the clinical images for publication of this manuscript.
Please cite this article as: Calderón-Castrat X., Velásquez F., Castro R., Ballona R. Atenolol oral en el manejo del hemangioma infantil: serie de casos de 46 pacientes. Actas Dermosifiliogr. 2020;111:59–62.