Full Text
To the Editor:
We present a 75 year-old woman with a history of venous insufficiency of the lower extremities. She consulted for a lesion that had arisen on her left ankle a year earlier and that had become erythematous and pruritic during the week prior to consultation. Physical examination revealed a slightly elevated, dark blue and brown lesion that was asymmetric and had poorly defined borders. It measured 1cm in diameter. The lesion was surrounded by a halo of eczema and desquamation, and the region was edematous and presented varicose blood vessel dilatations (Fig. 1). The provisional diagnoses included an ecchymotic lesion associated with dermatitis secondary to venous stasis or a melanocytic lesion with halo eczema (Meyerson phenomenon).
A blue-whitish veil was observed on dermoscopy and there were irregularly distributed, structureless brown and black areas (Fig. 2A). Patches of glomerular vessels and dotted vessels and fine whitish desquamation were observed in the area of the halo (Fig. 2B).
The dermoscopic findings elevated our suspicion of a melanocytic lesion, specifically malignant melanoma with halo eczema, and excision biopsy was therefore performed. Histology of the lesion revealed a proliferation of atypical melanocytes with a radial and vertical growth phases, intraepidermal melanocyte migration, and nests and irregular plaques that infiltrated the papillary dermis (Fig. 3A). These atypical cells had large and irregular nuclei, with prominent nucleoli and occasional intranuclear vacuoles (Fig. 3B). The adjacent epidermis presented acanthosis with moderate spongiosis, lymphocyte exocytosis, and hyperkeratosis, associated with a perivascular mononuclear inflammatory infiltrate in the dermis (Fig. 3C). This confirmed the diagnosis of superficial spreading melanoma with Meyerson phenomenon and a Breslow depth of 1.12mm. No ulceration, regression, blood or lymph vessel invasion, or neurotropism were observed, and the mitotic index was low.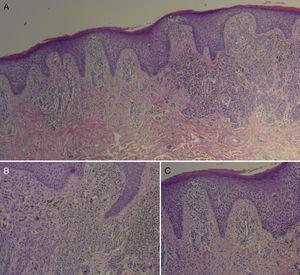 Figure 3.
Histopathology: A, Proliferation of atypical melanocytes with radial and vertical growth phases, intraepidermal migration of melanocytes, and nests and irregular plaques that infiltrate the papillary dermis. Hematoxylin and eosin (H&E), original magnification×4. B, Atypical cells with large and irregular nuclei, prominent nucleoli, and occasional intranuclear vacuoles. H&E, original magnification×10.C, Adjacent epidermis with acanthosis, moderate spongiosis, and lymphocyte exocytosis, associated with a mononuclear inflammatory infiltrate in a perivascular distribution in the dermis. H&E, original magnification×10.
(1.13MB).
Halo eczema or Meyerson phenomenon is a symmetric area of erythema and desquamation that surrounds a central lesion; it can be pruritic or asymptomatic. A number of hypotheses have been proposed regarding the etiology and pathogenesis of this phenomenon, the main one of which suggests an immune response with a predominance of CD4+ lymphocytes over CD8+ lymphocytes.1 The phenomenon was first described in acquired melanocytic nevi, but there have since been reports in all types of melanocytic nevi (congenital, dysplastic) and even in nonmelanocytic lesions such as basal cell carcinoma, squamous cell carcinoma, and seborrheic keratosis.1,2 Rodins et al.1 were the first to report a Meyerson phenomenon in an in situ melanoma, and later Ferneiny et al.3 described the finding in a superficial spreading melanoma with a Breslow depth of 0.75mm.
The few studies that have been performed on the dermoscopy of melanocytic lesions with halo eczema suggest that the inflammatory phenomenon does not affect or mask visualization of dermoscopic structures and criteria, and thus does not interfere with correct identification of these signs.2,4 In our case, the presence of a blue-whitish veil and of structureless areas suggested the diagnosis of melanoma.
Dotted vessels, distributed in patches, and yellowish scale crusts, similar to the findings of halo eczema in our case, are observed on dermoscopy in all types of dermatitis.5 Ecchymoses present a homogeneous pattern of structureless purpuric areas on dermoscopy,6 allowing us to exclude this diagnosis in our patient.
After reviewing the literature, we believe this is the first case in which the dermoscopic features of an invasive melanoma with Meyerson phenomenon are described. We agree with the authors cited above1,3 that this phenomenon is a sign that must not be undervalued, as it is not exclusive to nevi; the dermoscopic features of the pigmented lesion must be evaluated to determine whether it is benign or malignant, and the appropriate action taken.
Conflicts of Interest
The authors declare that they have no conflicts of interest and that they have not received funding for this study.
Acknowledgments
We would like to thank Dr. Ana Lucía López and Dr. María Victoria Rodríguez-Kowalczuk for their contribution to the drafting and review of this paper.
Please cite this article as: Bollea-Garlatti LA, Molinari LM, Galimberti GN, Galimberti RL. Melanoma con fenómeno de Meyerson: características clínicas y dermatoscópicas. Actas Dermosifiliogr. 2016;107:255–257.