Texto completo
We report the case of a 49-year-old Peruvian woman who presented with a 5-month history of cervical lymphadenopathy and neck pain. Social, family and medical past history were noncontributory. Physical examination revealed bilateral cervical lymphadenopathy, and a 3-cm-diameter erythematous plaque on her scalp (Figure 1a). Blood tests showed neutropenia (2.2 x 109/L) and positive serum antinuclear antibodies (titers 1:160). Computed tomographic scan (CTS) and 18-fluorodeoxyglucose positron emission tomography (PET) disclosed bilateral cervical lymphadenopathy with up to 2-cm enlarged lymph nodes.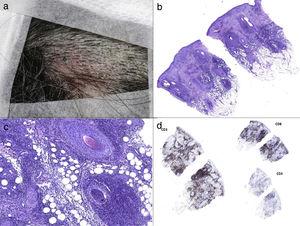 Figure 1.
a) The 3-cm-diameter erythematous plaque on the scalp. b) Haematoxylin and eosin staining showed mild vacuolar change in epidermal basal cells as well as perifollicular lymphohistiocytic infiltration and caryorrhexis in the reticular dermis (40x). c) The perifollicular lymphohistiocytic infiltration in haematoxylin and eosin staining (200x). d) Immunochemical analysis revealed that the lymphoid infiltrate was predominantly CD3+, with CD8 positive cells predominating over CD4.
(0,49MB).
Skin biopsy showed mild vacuolar change in epidermal basal cells as well as perifollicular lymphohistiocytic infiltration and caryorrhexis in the reticular dermis (Figure 1b, 1c). Immunochemical analysis revealed that the lymphoid infiltrate was predominantly CD3+, with CD8 positive cells predominating over CD4 (Figure 1d). By the other side CD68, CD163 and myeloperoxidase (MPO) immunostaining disclosed the presence of many histiocytes, and CD123 revealed that there were some plasmacytoid monocytes. Neutrophils and eosinophils were absent, and no granulomas were evidenced. Vasculitis was not a feature. Lymph node biopsy showed paracortical hyperplasia, patchy necrosis with abundant cellular debris and profuse peripheral histiocytic cells. She was diagnosed with Kikuchi-Fujimoto disease (KFD) with cutaneous involvement.
KFD, also known as histiocytic necrotizing lymphadenitis, was first described by Kikuchi1 and Fujimoto2 in 1972. It is a benign and self-limiting disorder characterized by lymphadenopathy associated with low-grade fever and flu-like symptoms. Unilateral and posterior cervical nodes are the commonest to be involved although it can present as generalized lymphadenopathy.3
The female to male ratio is more than 4:1. The predominance of reports from Japan, and the fact that many of the patients reported in Europe and the USA have been of Asian descent, may point to a racial or genetic susceptibility.4 Its etiology remains uncertain. A viral origin has long been suspected; however, the clinical course of the disease, the disappearance of lesions without any specific treatment, and some similarity with features of systemic lupus erythematosus (SLE) suggests the involvement of autoimmune mechanisms.3
The diagnosis is confirmed by lymph node biopsy.5 Involved lymph nodes characteristically demonstrate architecture partially effaced by confluent paracortical necrotic foci with abundant karyorrhectic debris, surrounded by CD68+ and MPO+ histiocytes, immunoblasts, CD8+ T-cells and CD123+ plasmacytoid dendritic cells.6 Neutrophils and eosinophils are absent. KFD has been classified into three histological subtypes, and is thought to progress from the proliferative type (expanded paracortex with an increase in histiocytes and plasmacytoid dendritic cells and karyorrhectic nuclear debris) to the necrotizing type (predominance of necrosis), and finally resolve into the xanthomatous type (predominance of foamy histiocytes).6
The skin is the most frequently affected extranodal organ, as cutaneous involvement has been reported in 16-40% of patients.7 Although some cases of KFD cutaneous lesions mimicking urticarial, morbilliform, rubella-like or drug-eruption-like rashes have been described, cutaneous KFD usually presents as erythematous papules and plaques, predominantly on the face, arms and upper neck. The histopathological findings of skin biopsies might mimic those of discoid lupus erythematosus; however, karyorrhectic debris without neutrophils, and the presence of CD68 and MPO positive cells are characteristic of KFD.7 The skin lesions of KFD resolve after several weeks to months along with the resolution of lymphadenopathy.
Misdiagnosing KFD as lymphoma or SLE is not uncommon due to the similarity of clinical and histopathological features of these diseases. Identification of the characteristic histiocytes and abundant karyorrhectic debris instead of malignant lymphoma cells or SLE-pathognomonic haematoxylin bodies would provide the clue for the diagnosis.
As the evidence suggests, it seems that individuals with KFD are more susceptible to SLE8; in particular, KFD can precede, postdate or coincide with the diagnosis of SLE.9 Although, the relationship between SLE and KFD remains a matter of debate, regular follow-up is required because SLE may develop several years after the onset of KFD.8
KDF is typically self-limiting, resolving within 1 to 4 months, though a possible recurrence rate of 3 to 4% has been reported. There is no specific treatment for KFD, although analgesics, antipyretics and nonsteroidal anti-inflammatory drugs may be used to alleviate lymph node tenderness and fever. The use of corticosteroids has been recommended in severe extranodal or generalized KFD,10 and if symptoms persist, intravenous immunoglobulins can be prescribed.
Our patient presented with leukopenia and positive antinuclear antibodies, however, she did not fulfill the American College of Rheumatology criteria for the diagnosis of SLE. She was given oral ibuprofen daily for three months, lymphadenopathies gradually diminished and the scalp plaque disappeared. After one-year follow up, only few, small and non-specific lymph nodes remain in CTS.
Kikuchi-Fujimoto disease is rare. Clinicians should be aware of this condition as early diagnosis of the disease will avoid unnecessary medical tests and will lessen concerns of the patient and their relatives.
Conflicts of Interest
The authors declare that they have no conflicts of interest.
Please cite this article as: Combalia A, Fustà-Novell X, García-Herrera A, Ferrando J. Enfermedad de Kikuchi-Fujimoto con compromiso de cuero cabelludo. Actas Dermosifiliogr. 2018;109:657–659.
Copyright © 2017. Elsevier España, S.L.U. and AEDV