Full Text
Case Description
A 29-year-old man was seen for lesions in the inguinal, intergluteal folds that had appeared 2 months earlier, without other associated lesions of the skin or mucosa-f. In addition (Fig. 1A), he presented lesions of the nails that he said had been present since the age of 15 (Fig. 1B). Interestingly, he reported that his mother also had similar skin and nail lesions that had appeared during adolescence.
What Is Your Diagnosis?
Darier disease with exclusively flexural involvement.
Comment
Polarized light dermoscopy revealed alternating longitudinal bands of leukonychia and erythronychia associated with subungual hyperkeratosis, splinter hemorrhage, and a V-shaped notch at the distal edge of the nail plate (Fig. 2). Cutaneous histology revealed the presence of dyskeratosis and suprabasal acantholysis. A genetic study of the patient and his mother detected a mutation in the ATP2A2 gene, confirming the suspected diagnosis of Darier disease.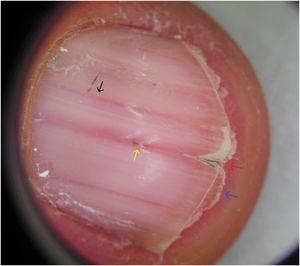 Figure 2.
Onychoscopy revealing longitudinal, alternating bands of erythronychia and leukonychia (black arrow), splinter hemorrhage beneath the central portion of the lamina (blue arrow), a V-shaped notch at the distal edge of the nail plate (red arrow), and subungual hyperkeratosis (yellow arrow).
(0.18MB).
Darier disease is a rare genodermatosis that is inherited in an autosomal dominant pattern and is caused by mutations in ATP2A2, which encodes a protein involved in the regulation of calcium channels.1 Characteristic findings include the presence of hyperkeratotic papules, which have a seborrheic distribution and are often macerated and foul smelling when located in intertriginous areas, as well as palmar pitting, white papules in the oral mucosa, and dystrophic nails.1,2 Onset usually occurs at puberty and the disease follows a chronic course, with exacerbations induced by infections, sun or heat exposure, and friction.2 Fingernail involvement is described in 92–95% of patients,3 in which the presence of alternating longitudinal white (linear leukonychia) and red (linear erythronychia) bands (candy-cane pattern) is pathognomonic.1,3 Longitudinal striae, subungual hyperkeratosis, splinter hemorrhages, and V-shaped notches in the distal free edge of the nail have also been described.1,3,4 Generally, involvement is polydactylous: the number of affected fingernails ranges from 2 to 5, while toenails tend to be less frequently affected.3
These nail alterations can be key in establishing the differential diagnosis with other dermatoses with similar cutaneous manifestations, including seborrheic dermatitis and Grover disease, in which nail involvement is absent, and Hailey–Hailey disease, in which Burge described characteristic multiple longitudinal bands of leukonychia, predominantly affecting the thumbs.5
This dermoscopic pattern should not be confused with other types of leukonychia or erythronychia that occur in other diseases. For example, onychopapilloma can present as a single longitudinal band of leukonychia or erythronychia and some glomus tumors present as a single longitudinal band of erythronychia that does not reach the distal border.3,4,6 Darier disease should also be distinguished from transverse leukonychia, whether true (trauma-associated) or apparent (generally associated with systemic diseases),3,4 and, above all, from other causes of polydactylous longitudinal erythronychia such as lichen planus, primary amyloidosis, graft-versus-host disease, and acantholytic epidermolysis bullosa.3,6
Given that the majority of patients with Darier disease present nail alterations,3 onychoscopy may be useful to facilitate diagnosis in doubtful cases such as that described here, in which flexural involvement and the absence of other skin lesions would suggest a diagnosis of Hailey–Hailey disease, and in patients with no relevant family history.
Conflicts of Interest
The authors declare that they have no conflicts of interest.
Please cite this article as: Sánchez-Bernal J, Álvarez-Salafranca M, Ara-Martín M. Uñas «en bastón de caramelo». Actas Dermosifiliogr. 2021. https://doi.org/10.1016/j.ad.2019.10.014