Texto completo
To the Editor:
A number of skin tumors show differentiation toward hair matrix components, including Gardner syndrome cysts, basal cell carcinoma, purely matrical tumors (pilomatricoma, matricoma, melanocytic matricoma, and pilomatrix carcinoma), and even some mixed tumors.1
Matricomas are rare tumors first described by Ackerman et al. While their cellular components are similar to those of pilomatricoma, they have a different silhouette,2,3 as they are solid nodules composed of matrical and supramatrical cells located in the dermis that occasionally extend into the subcutaneous tissue.4 Melanocytic matricoma, which was described by Carlson5 and is included in the World Health Organization classification of skin tumors, is a similar tumor, but with pigmented dendritic melanocytes (i.e., it has a dual population of epithelial and melanocytic cells).5
We present the case of a 75-year-old woman with a history of basal cell carcinoma and actinic keratoses who presented with an asymptomatic papular lesion on her forehead that had been growing progressively for several weeks and was clinically suggestive of basal cell carcinoma (Fig. 1A). The lesion was excised.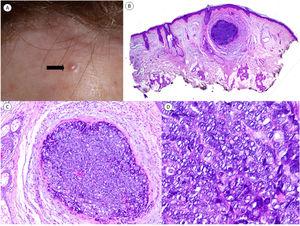 Figure 1.
Clinical and histopathologic findings. Clinical findings. A, Flesh-colored, 3-mm papule on the forehead. B, Hematoxylin–eosin staining (original magnification ×2). Panoramic view showing a small, well-defined nodule in the dermis. C, Hematoxylin–eosin, original magnification ×10). Higher-magnification view showing a well-delimited lesion, without palisading and surrounded by some stroma without artifactual retraction. D, Hematoxylin–eosin, original magnification ×20). Higher-magnification view showing basaloid cells with a vesicular nucleus. Note the mitoses in the field shown.
(0,56MB).
Histopathologic examination showed a small nodular tumor in the dermis with a diameter of approximately 2mm, a uniform proliferation of basaloid cells, frequent mitotic figures (some of which showed atypia), and no evidence of peripheral palisading or stromal retraction (Fig. 1B–D). Immunohistochemistry was positive for cytokeratin AE1/AE3, and there was also focal staining for p63 and BER-EP4. Epithelial membrane antigen, cytokeratin 7, androgen receptor, chromogranin, synaptophysin, and CD56 were negative.
Based on the above findings, the main entity considered in the differential diagnosis was an adnexal tumor of follicular origin.
Immunohistochemistry for β-catenin showed a cytoplasmic staining pattern, similar to that seen in the epidermis; nuclear positivity was absent (Fig. 2A–C). These findings were interpreted as nonspecific, and it was decided to send a sample to Friedrichshafen for LEF-1 staining. Although this immunostain is not completely specific (it can be observed in other basaloid skin tumors6), positive nuclear staining in this particular setting would support a matrical origin.7,8 The tumor cells expressed LEF-1 (Fig. 2B–D). Based on the mitotic activity and degree of atypia observed, the lesion could be considered within the group of proliferative pilomatricomas described by Kaddu et al.,9 although, given its unilobular silhouette and solid appearance, the definitive diagnosis was matricoma.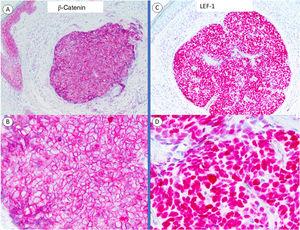 Figure 2.
Immunohistochemical staining with β-catenin and LEF-1. A and B, Panoramic view and close-up of β-catenin staining showing membranous staining, similar to that seen in epidermal keratinocytes, which serve as a positive control. C and D, Panoramic view and close-up with LEF-1 showing nuclear positivity in all the cells forming the tumor.
(0,61MB).
Occurrence in the sun-damaged of an elderly individual and the presence of atypical mitoses are unusual proliferative features for a benign matricoma tumor, and perhaps lie more in the middle of the spectrum toward malignancy. Several of the features described in the current report, however, indicate benign biologic behavior, such as the small size and clear demarcation of the tumor, absence of necrosis and, above all, absence of recurrences and new lesions during 10 months of follow-up.7,10
A number of immunostains are considered useful for the diagnosis of matrical tumors, the best known being β-catenin.7 Interpretation, however, is challenging in this setting, as immunostaining should only be considered positive and relevant in the presence of nuclear positivity. In addition, β-catenin staining can yield false negatives if the histopathologic sample does not include basaloid areas or if the tumor arose following activation of the WNT signaling pathway upstream of β-catenin.1,8 Tumors originating in the hair matrix cell may be secondary to hyperactivation of the WNT pathway, which has a crucial role in maintaining the normal hair cycle.11 In this pathway, dephosphorylated β-catenin is translocated to the cell nucleus, where its presence, evidenced by immunohistochemistry, indicates activation of the pathway, which is characteristic of, though not specific to, matrical tumors. Nuclear β-catenin translocation would activate transcription factors such as LEF-1, which would drive the expression of several genes involved in this pathway.8 Overexpression of LEF-1 in hair follicle bulge stem cells could also lead to nuclear β-catenin translocation.11 The activated pathway is shown in Fig. 3.
Figure 3.
WNT, β-catenin, and LEF-1 staining in matrical tumors.
Adapted from Tumminello and Hosler.8.
(0,23MB).
LEF-1 is more sensitive than nuclear β-catenin for the diagnosis of skin tumors originating in the hair follicle matrix (100% vs. 75% for benign tumors and 100% vs 92% for malignant tumors).8
Matrical tumors formed by immature cells and connected to the epidermis or hair follicle are challenging to diagnose. Histopathologic features typically seen in these tumors may be absent, such as transitional cells or the characteristic shadow cells seen in pilomatricomas, because the only cells present are proliferative matrix cells.
Familiarity with the main activation pathway involved in pilomatrical tumors and thoughtful use and interpretation of diagnostically helpful immunostains led to a correct diagnosis in the current case. It is important to recall that LEF-1 immunostaining, apart from having greater diagnostic sensitivity than β-catenin, is purely nuclear, and its results are therefore easier to interpret.
Conflicts of interest
The authors declare no conflicts of interest in relation to this article. Dr. Llamas-Velasco has received consultancy and speakers' fees and participated in studies and/or clinical trials with the following pharmaceutical companies: Abbvie, Almirall, Biogen, Celgene, Galderma, Janssen, Leo, Lilly, Novartis, and UCB.
Acknowledgments
We thank Dr. Javier Fraga and Dr. Arno Rütten for sharing their enormous experience and passion for dermatopathology with us every day. We are also grateful to Dr. Rütten, an expert in cutaneous adnexal tumors, for helping us to confirm the diagnosis in our case by providing us access to LEF-1 staining.