Texto completo
To the Editor:
Treatment of cutaneous leishmaniasis (CL) is complex, and depends on the Leishmania species, the site of inoculation, the clinical presentation, and the patient's age. Parenterally administered drugs, mainly pentavalent antimonials administered intravenously or intramuscularly, are generally reserved for complex forms or immunocompromised patients. Local treatments are the most commonly used, and include intralesional pentavalent antimonials, thermotherapy, and cryotherapy. These therapies can be very painful, have serious potential adverse effects, and can be less effective in children.1 Miltefosine, an oral agent with recognized efficacy for the treatment of leishmaniasis, may be a good option in these cases.
A 10-year-old boy (35kg) of Moroccan origin, with no relevant medical history, was seen for a painful skin lesion on the arm that had appeared 6 months earlier, 1 week after traveling to Morocco. Physical examination revealed a crusted, exudative, erythematous violaceous plaque measuring 8×6cm (Fig. 1A). Biopsy showed a lymphohistiocytic infiltrate with intracellular amastigotes (Leishman-Donovan bodies) in the dermis, based on which the patient was diagnosed with CL. Due to the child's age, his poor tolerance for medical procedures, the potential adverse effects of intralesional pentavalent antimonials, and their reduced efficacy in children aged less than 12 years,2 it was decided to begin treatment with miltefosine (75mg/d) for 28 days. The results of laboratory tests performed before and during treatment, including a complete blood count and kidney and liver function profiles, were normal. After 2 weeks of treatment the patient no longer presented pain, and after 4 weeks a marked clinical improvement was observed, with the presence of residual hyperpigmentation. At follow-up 6 months later, the patient remained asymptomatic, with a residual plaque on the arm (Fig. 1B).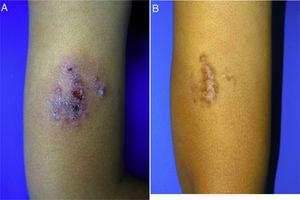 Figure 1.
Childhood cutaneous leishmaniasis. A, Very painful crusted, exudative, erythematous violaceous plaque (8×6cm) on the arm of a 10-year-old boy. B, Lesion control achieved 6 months after treatment with oral miltefosine. Residual brownish plaque on the arm. The patient remained asymptomatic.
(0,13MB).
Treatment of leishmaniasis in children can be difficult: they present a higher percentage of facial lesions, have a significantly lower response rate to antimonials than adults, have poorer adherence to injectable treatments, and are more susceptible than adults to potential systemic toxicity associated with standard treatments1 (Table 1).
Table 1.
Available Treatments for Cutaneous Leishmaniasis in Children.
Treatment 
Dose and route of administration 
Adverse effects 
Indication 
Cryotherapy 
Liquid nitrogen applied for 15–20s up to 1–2mm around the border of the lesion. Repeat 3 times per session. 
Erythema, edema, blister, residual hypopigmentation or hyperpigmentation, scarring 
Recent, small (<3cm diameter) lesions, <5 plaques. Do not use in cosmetically or functionally important areas (face, joints) 
 
Treatment is repeated every 3 wk until cure is achieved 
 
 
Thermotherapy 
Superficial application of heat (50°C) for 30s up to 1–2mm around the lesion border. Requires local anesthesia 
Erythema, edema, burns, residual hypopigmentation or hyperpigmentation 
Few (<5), small (<3cm in diameter) lesions in areas that are neither cosmetically nor functionally important (i.e. avoiding face). 
 
 
 
Thermosensitive species:

L.L. major, L.L. tropica, L.V. panamensis

, and

L.V. braziliensis

 
Imiquimod 
Topical 5% cream, 3 times per wk for 8 wk 
Erythema, pruritus, edema, ulceration. Headache, flu-like syndrome, myalgia (uncommon) 
Few, small lesions, species not associated with mucosal or lymphocutaneous involvement. 
 
 
 
Can reduce the duration of administration of pentavalent antimonials when both are administered in combination. 
 
 
 
Variable efficacy in monotherapy

12

 
Paromomycin 
Topical, creams or ointments. 
Erythema, itching, pain 
Few, small (≤5cm) ulcers due to

L.L. major

, without lymphocutaneous involvement 
 
Different formulations 
 
 
Photodynamic therapy/daylight activated photodynamic therapy 
Weekly application until lesion resolution* 
Erythema, itching, pain 
Few, small lesions, species not associated with mucosal or lymphocutaneous involvement 
Pentavalent antimonials
 
Intralesional 
Pain, local allergic reaction, edema, pruritus, and erythema. 
Few, small lesions. 
-Sodium stibogluconate 
Injection of 0.2–5mL per session every 3–7d, for a total of 5–8 treatment sessions (or until clinical resolution) 
Nausea, abdominal pain, headache, myalgia and arthralgia. 
Species not associated with mucosal or lymphocutaneous involvement. 
-Meglumine antimoniate 
Intramuscular or intravenous route 
Increased levels of pancreatic enzymes and serum transaminases, mild nonspecific leukopenia. 
Species associated with mucosal or lymphocutaneous involvement, >5 lesions, >3cm in diameter, in cosmetically or functionally important areas 
 
20mg Sb

V

/kg/d, infused over 15–30min, for 20d 
Cardiotoxicity and electrocardiographic abnormalities 
 
Azoles
 
Oral administration 
Nausea, vomiting, diarrhea, hepatotoxicity. 
Cutaneous, lymphocutaneous, and MC leishmaniasis 
-Fluconazole 
12mg/kg/d for 6 wk 
Increased serum transaminases 
Variable efficacy depending on 
-Itraconazole 
5–10mg/kg/d for 42–56d 
 
Species. 
Pentamidine 
Intramuscular administration 
Pancreatitis, hypotension. 
Exclusively for

L.V. guyanensis

 
 
3–4mg/kg every other day, 3–4 doses 
Prolongation of QT interval. 
 
 
 
Hyperpotassemia. 
 
 
 
Cytopenia. 
 
 
 
Nephrotoxicity. 
 
 
 
Increased serum transaminase levels 
 
Amphotericin
-Amphotericin deoxycholate 
0.5–1.0mg/kg IV daily or every other day for a cumulative dose of 15–30mg/kg 
Nephrotoxicity. 
Complex lesions (species associated with MC involvement, >5 lesions, lesions >3cm, cosmetically important areas 
-Liposomal amphotericin B 
3mg/kg/d IV for 5d and then a sixth dose on day 10 or daily for 7d for a cumulative dose of 18–21mg/kg

**

 
Hypokalemia.Anemia.Peripheral venous phlebitis.Infusion related fever.Prolonged QT interval 
[e.g. face], functionally important areas, lymph node involvement), severe forms (visceral or mucosal), lesions resistant to first-line therapy, immunocompromised patients or those with HIV coinfection 
Abbreviations: FDA, Food and Drug Administration; HIV, human immunodeficiency virus; IV, intravenous; MC, mucocutaneous; L.L., Leishmania (Leishmania); L.V., Leishmania (Viannia); Sb, antimoniate; SbV, pentavalent antimoniate or antimoniate salts.
Miltefosine is an alkylphosphocholine that was initially developed as an antitumor agent, after which its anti-Leishmania activity was discovered. In 2014 it was approved by the Food and Drug Administration (FDA) for the treatment of visceral, cutaneous, and mucocutaneous leishmaniasis in patients aged ≥12 years (≥30kg), and is currently the only authorized oral drug for this indication.3 Adverse effects occur in more than half of all patients, but are predominantly mild and well tolerated. Almost 90% of adverse effects are grade 1, consisting mainly of diarrhea, vomiting, transient increases in transaminase levels, and mild renal dysfunction, and do not usually require treatment interruption1,4 (Table 2). Multiple clinical trials have demonstrated a high response rate to miltefosine in patients with visceral and cutaneous leishmaniasis. A recent meta-analysis reported similar responses in CL patients infected with Leishmania braziliensis treated with either miltefosine or antimonials, but found that miltefosine was significantly superior in patients infected with parasite species other than L. braziliensis.5 Another recent meta-analysis evaluating CL treatments in children aged ≤12 years found a satisfactory response in 68% to 82.6% of CL cases treated with miltefosine.6 A randomized clinical trial conducted in Colombia included 116 CL patients aged 2–12 years, who were treated with intramuscular meglumine antimoniate (20mg/kg/d for 20d) or oral miltefosine (1.8–2.5mg/kg/d for 28d).7 Miltefosine showed a response rate of over 80%, which was noninferior to that of meglumine antimoniate, and a lower rate of adverse effects. Numerous clinical cases and case series have demonstrated the utility of miltefosine for the treatment of Old World CL,8,9 although there are limited pediatric data available.
Table 2.
Mechanism of Action, Dosage, Adverse Effects, Contraindications, and Interactions of Miltefosine.
Mechanism of action 
Posology 
Formulation 
Adverse effects 
Contraindications 
Interactions 
UnknownAttributed to a possible interaction with phospholipids and steroids in parasitic cell membranes, inhibition of mitochondrial function, and apoptosis-like cell death 
Children:2–11 y: 2.5mg/kg for 28 d≥12 y:<25 kg: 0mg/d for 28d

>

25kg: amoxicillin 50mg twice per day for 28dAdults:30–44kg: amoxicillin 50mg twice per day for 28 d≥45kg: amoxicillin 50mg 3 times per day for 28 d.Administer with meals to decrease gastrointestinal side effects* 
Breakable hard capsules, 50mg (Impavido®) 
Common (>10%): anorexia, nausea, vomiting, diarrhea, abdominal pain. Headache, dizziness.Thrombocytopenia (<150000: 62%; <50000: 2%).Increased serum transaminase levels (3×, 94%; 3–5×, 6%).Increased serum creatinine (≥1.5 times above baseline value, 10–25%).Rare (1–10%):Drowsiness, malaise, fatigue, paresthesia.Pruritus, cellulitis, skin rash, Stevens-Johnson syndrome, urticaria.Testicular pain, testicular swelling.Lymphangitis, anemia, lymphadenopathy.Other: weakness, fever, agranulocytosis, decreased ejaculate volume, increased serum bilirubin, jaundice, melena, seizures, thrombocytopenia, pancreatitis

**

 
HypersensitivitySjogren–Larsson syndrome.Pregnancy (toxicity studies in rats indicate embryotoxicity, fetotoxicity, and teratogenicity). Women of childbearing age should use effective contraception during and for 3–5 months after completing treatment.There are no data on risk during lactation: administration is not recommended 
No significant interactions known 
Miltefosine is detectable in cells and plasma up to 1 and 6 months after treatment, respectively.4 This may explain why the clinical response progressively improves after discontinuation of treatment. Some studies have shown that children may have lower plasma and intracellular concentrations of miltefosine than adults,4 which may influence the therapeutic response.
Despite being the only oral agent approved for the treatment of leishmaniasis, its good efficacy and safety profile, and its inclusion in the World Health Organization's list of essential drugs, miltefosine is considered an orphan drug given its limited availability worldwide. In Europe, it is registered only in Germany (in Spain it must be requested as a foreign medication), and constitutes a high cost for health systems.3 In Spain it costs approximately €2600 (56 hard 50-mg capsules), which is significantly more expensive than imiquimod, daylight photodynamic therapy, and intralesional antimonials. However, it could be cost-effective when considering adherence, efficacy, the indirect costs of lost time, adverse events, and direct costs to the patient.10 The fact that miltefosine is no longer patent-protected should facilitate the development of lower-cost generic products.
Daylight photodynamic therapy is another therapeutic alternative for childhood CL. A novel study reported a high response rate when the product was applied by the patient (or their relatives) once per week until clinical resolution, with minimal adverse effects.11
Children may show poorer adherence to standard CL therapy, which can have potentially serious adverse effects in these patients. Miltefosine can be a useful alternative for the treatment of leishmaniasis in these cases owing to its high efficacy, oral route of administration, and low toxicity.
Conflicts of interest
The authors declare that they have no conflicts of interest.