Texto completo
Patient history
A 36 year old woman presented with skin lesions and loss of sensation on the left foot that had been evolving for 2 years. She had Brazilian nationality but had been living in Portugal for 17 years.
Physical examination
Physical examination revealed multiple erythematous or brown papulonodular lesions with a firm consistency on the upper lip, interciliary region, chin and nasal dorsum, with a fairly symmetrical distribution. Diffuse infiltration of the malar region gave the appearance of a leonine facies (Fig. 1a). Multiple subcutaneous nodules with hyperpigmentation of the overlying skin were symmetrically distributed on the shins (Fig. 1b). On neurological examination we documented decreased tactile, thermal and pain sensitivity of the left foot with no palpable nerve bundles or bone deformations.
Complementary tests
A skin biopsy showed a diffuse dermal infiltrate with perieccrine and perineural tropism, predominantly of foamy histiocytes. (Fig. 2a–c) Fite-Faraco staining revealed numerous intracellular bacilli, forming dispersed clusters (Fig. 2d).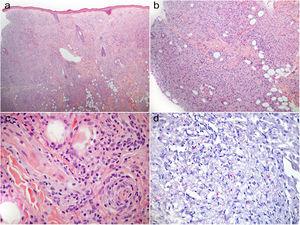 Figure 2.
(a) Diffuse, pale, dermal infiltrate that spares the most superficial zone of the dermis (Grenz zone), consisting predominantly of foamy histiocytes. (b), (c) Perieccrine and perineural tropism of the infiltrate. (d) Multiple conglomerates of bacilli (globi). (a)–(c) H&E, (a) ×40, (b) ×100, (c) ×400; (d) Fite-Faraco's stain, ×200.
(0,22MB).
What is the diagnosis?
Diagnosis
Hasen's disease
Treatment
Multidrug therapy was initiated according to the WHO scheme (rifampicin 600mg monthly, clofazimine 300mg monthly and 50mg daily, dapsone 100mg daily).1 Patient's close contacts were observed, none showing suspicious changes. A marked improvement in the clinical condition was observed including partial recovery of sensitivity in the first three weeks of therapy. So far, she has completed 7 months of treatment out of a total of 12–18 months.
Comments
Hansen's disease, caused by Mycobacterium leprae, typically affects the skin and peripheral nerves but can have a wide range of possible clinical manifestations.2 Eradicated in Portugal since the 1980s, Hansen's disease remains endemic in certain regions of Asia, Africa and Central and South America. Depending on the type of immunity shown by the host, and the intensity of response against the mycobacteria, the disease can be grouped into two major categories: lepromatous and tuberculoid, with intermediate forms between these two opposite poles.3 The incubation period varies considerably from 4 to 10 years, and it can be as long as 3 decades3 Regarding treatment, promising drugs in the future include moxifloxacin, clarithromycin and rifapentine. The last has higher peak serum concentrations, a longer serum half-life, and more bactericidal activity against M. leprae than does rifampin. Also, moxifloxacin appears to be more bactericidal than ofloxacin.4,5
Despite being a curable disease with an excellent prognosis, timely investigation and treatment of Hansen's disease is essential, as this slowly progressive chronic condition can result in stigmatizing major deformation and disability.
Our patient came from a high-risk country, and this information was paramount for our diagnostic suspicion, as other causes of leonine facies include leishmaniasis, cutaneous lymphoma and scleromyxedema, among others.6
This case highlights the need for awareness of the cutaneous manifestations of leprosy and remind us that, although rare in developed countries, in the current context of globalization it can still present in clinic today.
Funding
None.
Conflict of interests
The authors declare that they have no conflict of interest.