Full Text
Dear Editor:
Hypertrophic lichen planus (HLP) can undergo malignant transformation, leading to the development of squamous cell carcinoma, although this is an uncommon complication.1,2 Furthermore, the histopathology findings of HLP, inflammatory reactive changes, and squamous cell carcinoma are usually similar, thus making diagnosis challenging.2–4
A 70-year-old man consulted for very pruritic hypertrophic, erythematous-violaceous polygonal papules and plaques that had gradually appeared on both legs (Fig. 1A). The lesions were accompanied by xerosis and cutaneous signs of chronic venous insufficiency. No lesions were observed at other sites. Given the suspected diagnosis of HLP, serology testing for hepatotropic virus was requested. The results were negative, and biopsy specimens were taken from 2 lesions. The histopathology study revealed epidermal hyperplasia with acanthosis, prominent papillomatosis, and marked hyperkeratosis, with focal loss of the stratum basale in the distal portion of the rete ridges and a discrete lymphocytic infiltrate, as well as underlying stromal repair processes (Fig. 2A and B). The patient was prescribed emollients and mometasone furoate cream, with partial improvement of both the symptoms and the lesions. After 5months of follow-up, the patient presented with a tumor measuring 1.4cm in diameter on the right pretibial region. The tumor was crateriform with a central hyperkeratotic area and a painful infiltrated base (Fig. 1B and C). The tumor was removed, and a partial skin graft was performed. Histopathology revealed an infiltrating squamous and crateriform neoplasm with masses in the dermis composed of keratinocytes with a pale abundant cytoplasm and slight nuclear atypia (Fig. 2C and D), thus enabling a diagnosis of keratoacanthoma.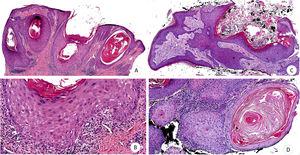 Figure 2.
A and B, Epidermal hyperplasia with acanthosis, papillomatosis, and hyperkeratosis. B, Focal loss of stratum basale with discrete lymphocytic infiltrate. C, Infiltrating, crateriform squamous cell tumor. D, Dermal masses composed of keratinocytes with abundant cytoplasm and pale eosinophils with slight nuclear atypia (hematoxylin-eosin, ×4 [A]; ×10 [B]; ×4 [C]; ×10 [D]).
(0.65MB).
HLP is a T cell–mediated chronic idiopathic inflammatory skin disease.1,5,6 While the pathogenesis of the disease is not clearly defined, eosinophils, Koebner phenomenon, and chronic venous insufficiency seem to play a key role.1,3 Oral and genital lichen planus and HLP can undergo malignant transformation.3–5 The environmental risk factors for squamous cell carcinoma are chronic inflammation, smoking, human papillomavirus coinfection, exposure to arsenic, irradiation, and immunosuppression.3,5,6
Malignant transformation is uncommon5 and usually takes the form of well-differentiated cutaneous squamous cell carcinoma, including keratoacanthoma and verrucous carcinoma, although cases of metastatic cutaneous squamous cell carcinoma have been described.4,5
The differential diagnosis includes pseudoepitheliomatous hyperplasia, squamous cell carcinoma, irritant seborrheic keratosis, hypertrophic lupus erythematosus, and pretibial epidermolysis bullosa.2,3,7
Histopathology of HLP reveals orthokeratosis, epidermal hyperplasia with acanthosis, hypergranulosis, vacuolar damage of the basement membrane, and interface lichenoid infiltrate with eosinophils.3,5,6 However, hypergranulosis and damage to the basement membrane are variable and may also be observed in pseudoepitheliomatous hyperplasia, which in turn may be difficult to differentiate from squamous cell carcinoma.6
Pseudoepitheliomatous hyperplasia is characterized by hyperplasia of the epidermis and adnexal epithelium, as well as by irregular acanthosis. Unlike cutaneous squamous cell carcinoma, it does not invade the dermis, does not infiltrate neurovascular structures, and does not present cellular atypia. Immunohistochemistry of squamous cell carcinoma reveals overexpression of p53 and perforating elastic fibers.3,6,8 Gene sequencing can contribute to the differential diagnosis, since C15orf48 is overexpressed in squamous cell carcinoma, whereas KRT9 is overexpressed in pseudoepitheliomatous hyperplasia.8
Similarly, the clinical history and physical examination are essential. HLP should be suspected when a patient presents with pretibial hypertrophic papules and plaques, Wickham striae, involvement of the oral and/or genital mucosa, and ungual abnormalities, as well as absence of skin lesions associated with exposure to sunlight and risk factors for keratinocyte carcinoma.3,6 Lastly, follow-up and biopsy make it possible to rule out malignant transformation if the lesions undergo rapid growth, ulceration, and bleeding.4,9
Treatment is based on topical, systemic, and intralesional corticosteroids, as well as acitretin, methotrexate, mycophenolate mofetil, ciclosporin, and hydroxychloroquine.1,3,5 Treatment is with surgery if keratinocyte carcinoma appears during the course of the disease.5
In conclusion, we present the case of a patient with HLP in whom keratoacanthoma developed during follow-up. This association is infrequent, although it illustrates the importance of follow-up. Correct diagnosis and treatment are based on the correlation between clinical and histopathological features.
Conflicts of Interest
The authors declare that they have no conflicts of interest.
Please cite this article as: Guillen-Climent S, Porcar Saura S, Monteagudo C, Ramón Quiles MD. Liquen plano hipertrófico: importancia del seguimiento y de la correlación clinicopatológica. Actas Dermosifiliogr. 2021;112:184–185.