Texto completo
Koebner phenomenon indicates the newly development of the same skin lesions as the pre-existing dermatoses at the site of injury.1 We describe herein a case of Sweet's syndrome which exhibited isomorphic response of Koebner, at the onset of the disease.
A 50-year-old male visited our hospital, complaining of high fever (38°C), arthralgia, and skin rashes. Following throat sore, he developed painful, infiltrative erythemas on the right forearm, cheek, and forehead. Clarithromycin (300mg/day) was ineffective. On physical examination, painful tender erythematous lesions consisting of relatively well-circumscribed fresh-colored edematous erythematous plaques with superficial tiny pustules and scales on the surface were observed on the dorsal aspect of the right forearm, along with scattered small papules (Fig. 1a)Fig. 1. Additionally there were brightly erythematous plaques distributed linearly on the injured scar on the wrist (Fig. 1a), which were induced by cat-bite a few days previously. Congestion of tunica conjunctiva bulbi was detected on the eyes. Prior to the onset of skin lesions, there was no use of new drugs. Laboratory examination showed an elevated white blood cell count (9,700/mm3) with 79.1% neutrophils, and C-reactive protein (9.14mg/dl). Kidney and liver functions were within normal ranges. Bacterial cultures from the pustule on the erythematous plaque and scratched linear erythema yielded only indigenous bacteria. Anti-streptolysin O (ASO) level was within normal range; however, laryngoscopic examination revealed tonsillolith on the tonsil crypt. A biopsy specimen taken from the forearm revealed accumulation of polymorphonuclear leukocytes with leukocytoclasis, and edematous dermis (Fig. 1b, c). After admission, the patient was successfully treated with intravenous antibiotics (cephalosporin for 10 days for tonsillitis), systemic prednisolone (25mg/day) and colchicine (1.5mg/day). Prednisolone and colchicine were gradually tapered, and prednisolone was stopped 7 weeks later and colchicine was ceased 3 months later. Thereafter, no recurrence was observed during 1.5 years' follow-up periods.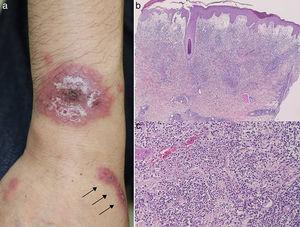 Figure 1.
(a) Round, infiltrative erythema with superficial small pustules, and infiltrative linear erythema (arrow) on the forearm. (b, c) Histological features showing prominent edema in the papillary dermis and intense neutrophil infiltration in the upper to mid-dermis. (original magnification; a: ×40, b: ×200).
(0,72MB).
The present case developed painful, infiltrative erythemas on the trunk and extremities along with high fever. In addition, infiltrative erythema occurred on the recent scar which was induced by cat bite a few days previously. Sweet's syndrome is a neutrophilic dermatosis characterized by high fever, polymorphonuclear neutrophilic leukocytosis, and multiple, raised, painful erythematous plaques with superficial small pustules on the face and limbs, often in patients with immunologic disorders such as rheumatoid arthritis and inflammatory bowel disease. Sweet's syndrome can also arise as a hypersensitivity reaction to infections (bacterial, viral), drugs, and tumor- or pregnancy-associated antigens, possibly mediated by T-cell-dependent cellular immune responses, leading to neutrophil and macrophage stimulation. In this case, the patient complained of sore throat, which may trigger Sweet's syndrome. This patient was scratched by his cat on the forearm, but without symptoms of bacterial infection, i.e. tenderness, swelling and redness, due to pasteurella infection. Some days later, along with the sudden onset of Sweet's syndrome, skin lesions involved the scratched site, which turned reddish again. Bacterial cultures revealed only indigenous bacteria. Moreover, initially prescribed antibiotics (clarithromycin) were ineffective. Therefore, we concluded that cat bite was unexpected to have played a causative role via i.e. pasteurella infection. Also, Behçet's disease was denied because genital ulcers, erythema nodosum and folliculitis were not observed.
Koebner phenomenon in Sweet's syndrome is rare, and only a few cases have been reported.2,3 A previous report described that the eruption of Sweet's syndrome involved the previous minor trauma site4 or operative site.5 Additionally, skin lesions occurred at the sites of cat scratches like our case, biopsies, contact dermatitis, insect bites, intravenous catheter placement, irradiation, and venipuncture.6 Ueki7 proposed a second-step theory, a first non-specific inflammatory step and a second disease-specific step, in Koebner phenomenon. In the first step, many environmentally induced factors such as cytokines, stress proteins, adhesion molecules, or autoantigens translocated from intracellular areas are involved in the inflammatory phase. Subsequently, in the second step, there may be disease-specific reactions mediated by T-cells, B-cells, autoantibodies and immune complex deposition under the susceptible backgrounds. Our case developed Koebner phenomenon on the site of not an old scar, but fresh injury. Activated neutrophils might recruit to the injured site as a hypersensitivity reaction.
Conflicts of Interest
The authors declare that they have no conflicts of interest
Please cite this article as: Hiraiwa T, Ishikawa M, Ohashi T, Miura T, Satoh M, Yamamoto T. Fenómeno de Koebner en el síndrome de Sweet. Actas Dermosifiliogr. 2018;109:555–556.