Article information
Abstract
Full Text
Bibliography
Download PDF
Statistics
Abstract
Intralymphatic histiocytosis is a benign condition characterized by poorly defined erythematous plaques (sometimes forming a reticular pattern) as well as the presence of nodules and vesicles. Its etiology and pathogenesis appear to be related to chronic inflammation in the affected area, prior surgery, or systemic disease, particularly rheumatoid arthritis. We report on 2 new cases, both associated with joint surgery in the affected area and osteoarticular disease (primary synovial osteochondromatosis and rheumatoid arthritis). This is a chronic disease and there is no specific treatment. Different treatment options were chosen in the 2 cases described. A spectacular response to treatment with oral pentoxifylline and topical tacrolimus was observed in 1 of the patients.
Keywords:
Intralymphatic histiocytosis
Reactive cutaneous angiomatosis
Rheumatoid arthritis
Treatment
Resumen
La histiocitosis intralinfática es un proceso benigno caracterizado por placas eritematosas mal delimitadas, a veces reticuladas, otras con nódulos o vesículas en su interior. Su etiopatogenia parece estar relacionada con procesos inflamatorios crónicos en el área afectada, cirugía previa o con enfermedades sistémicas, sobre todo con la artritis reumatoide. Presentamos 2 nuevos casos, ambos asociados a cirugía articular del área afecta y enfermedad osteoarticular (osteocondromatosis sinovial primaria y artritis reumatoide). Esta entidad tiene un comportamiento crónico y no existe un tratamiento específico. En los 2 casos presentados se plantearon distintas opciones terapéuticas, mostrando uno de ellos una respuesta espectacular al tratamiento con pentoxifilina oral junto con tacrolimus tópico.
Palabras clave:
Histiocitosis intralinfática
Angiomatosis cutánea reactiva
Artritis reumatoide
Tratamiento
Article
These are the options to access the full texts of the publication Actas Dermo-Sifiliográficas (English Edition)
Subscribe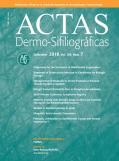 Subscribe to
Actas Dermo-Sifiliográficas (English Edition)
Contact
Telephone
From Monday to Friday from 9 a.m. to 6 p.m. (GMT + 1) except for the months of July and August which will be from 9 a.m. to 3 p.m.
Calls from Spain
902 88 87 40
Calls from outside Spain
+34 932 418 800
E-mail