Article information
Abstract
Full Text
Bibliography
Download PDF
Statistics
Tables (5)
Table 2. Results of Patch Tests and Final Diagnosis of Allergic Contact Dermatitis.
Table 3. Comparison of Presence of Allergic Contact Dermatitis According to Antiseptic Pairing (McNemar Test).
Table 4. Allergic Contact Dermatitis to Mercury Derivatives.
Table 5. Sensitization to Mercury Derivatives.
Abstract
Introduction
Although Mercromina Film and other topical antiseptics are widely used, they are not included in the standard series recommended by the Spanish Contact Dermatitis and Skin Allergy Research Group for testing suspected allergic contact dermatitis (ACD). Furthermore, no recent studies have investigated the allergenic potential of merbromin.
Objective
To determine the allergenic potential of merbromin and compare it with that of other topical antiseptics widely used in clinical practice, including povidone-iodine, chlorhexidine, and eosin.
Material and methods
Prospective single-center observational safety study of 105 patients with suspected ACD seen at the dermatology department of our hospital.
Results
Of the 105 patients studied, 1.9% had a positive patch test to merbromin and 12.4% were sensitized to povidone-iodine. The differences in the proportion of patients with ACD to Betadine Solución Dérmica (povidone-iodine) compared with the rest of the antiseptics was statistically significant (McNemar test, P<.05). No adverse reactions were observed in any of the patients.
Conclusions
Based on the patch tests conducted, Mercromina Film has very low allergenic potential. The highest allergenic potential was observed for povidone-iodine.
Keywords:
Mercromina Film
Merbromin
Allergic contact dermatitis
Antiseptics
Allergenic potential
Resumen
Introducción
Pese al uso tan extendido de la Mercromina Film® y otros antisépticos de uso tópico, estos no se encuentran incluidos en la serie estándar española del Grupo Español de Investigación en Dermatitis de Contacto y Alergia Cutánea, realizada ante sospecha de dermatitis alérgica de contacto. Además, no existen estudios recientes sobre capacidad alergogénica de la merbromina, motivo por el que se plantea la presente investigación.
Objetivo
Determinar la capacidad alergénica de la merbromina y compararla con la de los otros antisépticos de uso tópico frecuentemente utilizados en la práctica clínica, entre los que se incluye la povidona iodada, clorhexidina y eosina.
Material y métodos
Estudio observacional de seguridad, prospectivo y unicéntrico realizado en 105 pacientes con sospecha de dermatitis alérgica de contacto que acudieron a la consulta del departamento de dermatología.
Resultados
El 1,9% de los participantes presentó dermatitis alérgica de contacto a la merbromina. El 12,4% de los pacientes presentó sensibilización ante la povidona iodada. Las diferencias entre el porcentaje de pacientes que presentó dermatitis alérgica de contacto a Betadine® solución dérmica respecto al resto de antisépticos fueron estadísticamente significativas (prueba de McNemar; p<0,05). No se registraron efectos adversos con ninguno de los antisépticos en estudio.
Conclusiones
Mercromina Film ha demostrado una muy baja capacidad alergénica en la prueba de patch test. Cuando se comparan con otros antisépticos tópicos, la mayor capacidad alergénica se encontró con la povidona iodada.
Palabras clave:
Mercromina Film
Merbromina
Dermatitis alérgica de contacto
Antisépticos
Capacidad alergénica
Article
These are the options to access the full texts of the publication Actas Dermo-Sifiliográficas (English Edition)
Subscribe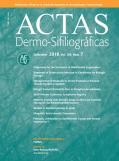 Subscribe to
Actas Dermo-Sifiliográficas (English Edition)
Contact
Telephone
From Monday to Friday from 9 a.m. to 6 p.m. (GMT + 1) except for the months of July and August which will be from 9 a.m. to 3 p.m.
Calls from Spain
902 88 87 40
Calls from outside Spain
+34 932 418 800
E-mail