Article information
Abstract
Full Text
Bibliography
Download PDF
Statistics
Abstract
Malignant cutaneous adnexal neoplasms form a group of rare, typically low-grade-malignancy carcinomas with follicular, sebaceous, apocrine, or eccrine differentiation or a combination of the first 3 subtypes. Their clinical presentation is usually unremarkable, and biopsy is required to establish the differentiation subtype and the definitive diagnosis. Due to their rarity, no clear consensus has been reached on which treatment is most effective. Mohs micrographic surgery is considered to be the best option to prevent recurrence in the majority of patients. Radiotherapy and chemotherapy have been studied in very few cases and have rarely been shown to be effective.
Keywords:
Malignant cutaneous adnexal neoplasms
Treatment
Surgery
Mohs micrographic surgery
Resumen
Las neoplasias anexiales cutáneas malignas constituyen un grupo de carcinomas poco frecuentes, habitualmente de bajo grado de malignidad, que muestran diferenciación folicular, sebácea, apocrina o ecrina o una combinación de las 3 primeras. Clínicamente suelen ser neoplasias con características poco distintivas, siendo necesaria una biopsia que permitirá establecer el tipo de diferenciación y el diagnóstico definitivo. Al tratarse de una enfermedad poco frecuente, no existe un claro consenso sobre el tratamiento más eficaz. En la mayoría de casos se considera la microcirugía de Mohs como la opción más efectiva para prevenir recidivas. La radioterapia y quimioterapia han sido escasamente estudiadas y solo se han mostrado eficaces en escasas ocasiones.
Palabras clave:
Neoplasias anexiales cutáneas malignas
Tratamiento
Cirugía
Cirugía de Mohs
Article
These are the options to access the full texts of the publication Actas Dermo-Sifiliográficas (English Edition)
Subscribe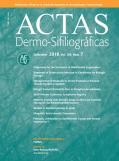 Subscribe to
Actas Dermo-Sifiliográficas (English Edition)
Contact
Telephone
From Monday to Friday from 9 a.m. to 6 p.m. (GMT + 1) except for the months of July and August which will be from 9 a.m. to 3 p.m.
Calls from Spain
902 88 87 40
Calls from outside Spain
+34 932 418 800
E-mail