Article information
Abstract
Full Text
Bibliography
Download PDF
Statistics
Abstract
Introduction
Tattooing has become a popular practice in western countries, particularly among younger populations. Tattoos, however, can cause complications, such as infections, allergic or foreign-body reactions, and even systemic inflammatory responses.
Patients and methods
We conducted a retrospective study of all patients seen for tattoo-related complications at our skin allergy unit between January 2002 and December 2016.
Results
We studied 23 patients. Nine of these experienced early complications, all related to infection. The other 14 patients developed late reactions. Ten were diagnosed with probable allergic contact dermatitis to ink, but the suspect allergen was identified in just 3 cases and confirmed in just 1 of these. There were 2 cases of cutaneous sarcoidosis, 1 case of foreign body granuloma, and 1 case of neuropathy.
Conclusions
Complications resulting from tattoos are relatively common dermatology complaints. Drawing from our experience, we propose a diagnostic algorithm designed to guide dermatologists in evaluating different reactions to tattoos and prescribing appropriate treatment.
Keywords:
Tattoo
Ink
Allergic contact dermatitis
Tattooing/adverse effects
Resumen
Introducción
Los tatuajes se han convertido en una práctica muy popular en los países occidentales, sobre todo entre los más jóvenes. Las complicaciones asociadas a esta técnica incluyen procesos infecciosos, alérgicos, reacciones a cuerpo extraño e incluso procesos inflamatorios sistémicos.
Pacientes y métodos
Se ha realizado un estudio retrospectivo de todos los pacientes que acudieron a la consulta de Alergia cutánea por manifestar complicaciones en un tatuaje desde enero de 2002 a diciembre de 2016.
Resultados
Se han incluido a 23 pacientes. De ellos, 9 presentaron complicaciones de forma precoz y en todos ellos la etiología fue infecciosa. De los 14 pacientes con reacciones tardías, 10 fueron diagnosticados de probable dermatitis de contacto alérgica a la tinta, sin embargo solo en 3 de los casos se pudo apuntar al alérgeno probablemente culpable y tan solo en uno de ellos se pudo demostrar. Se detectaron dos casos de sarcoidosis cutánea, uno de reacción granulomatosa a cuerpo extraño, y un caso de reacción neuropática en una paciente.
Conclusiones
Las complicaciones asociadas a los tatuajes son un motivo de consulta relativamente frecuente en las consultas de Dermatología. Proponemos un algoritmo diagnóstico basado en nuestra casuística, que ayude a orientar las distintas reacciones a tatuaje y con ello a iniciar las medidas terapéuticas oportunas.
Palabras clave:
Tatuaje
Tinta
Dermatitis de contacto alérgica
Complicaciones del tatuaje
Article
These are the options to access the full texts of the publication Actas Dermo-Sifiliográficas (English Edition)
Subscribe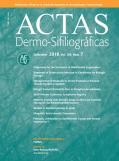 Subscribe to
Actas Dermo-Sifiliográficas (English Edition)
Contact
Telephone
From Monday to Friday from 9 a.m. to 6 p.m. (GMT + 1) except for the months of July and August which will be from 9 a.m. to 3 p.m.
Calls from Spain
902 88 87 40
Calls from outside Spain
+34 932 418 800
E-mail