Article information
Abstract
Full Text
Bibliography
Download PDF
Statistics
Abstract
Confluent and reticulated papillomatosis, also known as Gougerot-Carteaud Syndrome, is a rare chronic disease typically affecting young adults. Of unknown etiology, the condition is characterised by oval grayish-brown or erythematous papules that coalesce to form a reticular pattern, usually on the trunk, especially in the intermammary or interscapular region and on the neck. Diagnosis is primarily clinical, based on the appearance of the lesions, the areas affected, and the response to treatment with minocycline. We report 20 cases of patients with histologically confirmed confluent and reticulated papillomatosis who presented linear pseudo-striae, a little known diagnostic sign.
Keywords:
Atrophy
Acanthosis nigricans
Tinea versicolor
Minocycline
Resumen
La papilomatosis confluente y reticulada, o síndrome de Gougerot y Carteaud, es una enfermedad infrecuente, crónica, de etiología desconocida, que se presenta habitualmente en adultos jóvenes y se caracteriza por placas pardo-eritematosas ovales, que confluyen en un patrón reticulado y afectan el tronco, particularmente la región intermamaria e interescapular, y el cuello. Su diagnóstico es fundamentalmente clínico, se basa en la localización y el aspecto de las lesiones, así como en la respuesta al tratamiento con minociclina. Presentamos 20 casos de papilomatosis confluente y reticulada, confirmados por histopatología, en quienes se identificó la presencia de pseudoestrías lineales, un hallazgo semiológico poco reconocido.
Palabras clave:
Atrofia
Acantosis nigricans
Tiña versicolor
Minociclina
Article
These are the options to access the full texts of the publication Actas Dermo-Sifiliográficas (English Edition)
Subscribe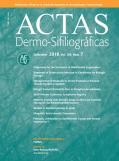 Subscribe to
Actas Dermo-Sifiliográficas (English Edition)
Contact
Telephone
From Monday to Friday from 9 a.m. to 6 p.m. (GMT + 1) except for the months of July and August which will be from 9 a.m. to 3 p.m.
Calls from Spain
902 88 87 40
Calls from outside Spain
+34 932 418 800
E-mail