Article information
Abstract
Full Text
Bibliography
Download PDF
Statistics
Tables (7)
Table 2. Basic Features of Immunosuppressants to Know When Selecting a Therapy.
Table 3. Practical Aspects of Treatment With Methotrexate.
Table 4. Practical Aspects of Treatment With Ciclosporin.
Table 5. Practical Aspects of Treatment With Azathioprine.
Table 6. Practical Aspects of Treatment With Mycophenolate Mofetil and Mycophenolate Sodium.
Table 7. Practical Aspects of Treatment With Cyclophosphamide.
Abstract
The treatment of inflammatory and autoimmune diseases is challenging because of their frequency and complexity. Treatment of these diseases is based on the suppression of the patient's immune system using corticosteroids, corticosteroid-sparing immunosuppressive agents, and biologic drugs, making an understanding of the management of immunosuppressive therapy essential. Before an immunosuppressive agent is prescribed, a study must be carried out to identify contraindications, detect latent infections, and determine the most appropriate dose. During treatment, regular monitoring is required to detect adverse effects. The clinician must be familiar with the time lag between start of treatment and onset of the immunosuppressive effect as well as the maximum recommended duration of treatment and cumulative dose for each drug. As dermatologists we are accustomed to using these immunosuppressive agents, but we should have a good knowledge of the guidelines for their use and the monitoring required in each case if we are to reduce variability and avoid potentially serious adverse effects.
Keywords:
Methotrexate
Ciclosporin
Cyclophosphamide
Azathioprine
Mycophenolate
Immunosuppression
Resumen
Las enfermedades inflamatorias y autoinmunes constituyen un desafío terapéutico por frecuencia y complejidad. Su tratamiento se basa en la inmunosupresión del paciente con glucocorticoides, inmunosupresores ahorradores de corticoides y fármacos biológicos, siendo imprescindible por tanto conocer su manejo. Cuando se va a pautar un inmunosupresor es necesario realizar un estudio previo para detectar contraindicaciones, infecciones latentes o determinar la dosis más adecuada del fármaco. Durante el tratamiento se deben realizar controles periódicos para detectar efectos secundarios. Cada fármaco tiene un tiempo de inicio de acción que es preciso conocer, así como una duración o dosis acumulada máxima recomendada. Los dermatólogos estamos habituados al uso estos fármacos inmunosupresores, pero es necesario tener claras las pautas y los controles necesarios con cada uno, para disminuir la variabilidad y evitar efectos adversos potencialmente graves.
Palabras clave:
Metotrexato
Ciclosporina
Ciclofosfamida
Azatioprina
Micofenolato
Inmunosupresión
Article
These are the options to access the full texts of the publication Actas Dermo-Sifiliográficas (English Edition)
Subscribe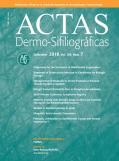 Subscribe to
Actas Dermo-Sifiliográficas (English Edition)
Contact
Telephone
From Monday to Friday from 9 a.m. to 6 p.m. (GMT + 1) except for the months of July and August which will be from 9 a.m. to 3 p.m.
Calls from Spain
902 88 87 40
Calls from outside Spain
+34 932 418 800
E-mail