Article information
Abstract
Full Text
Bibliography
Download PDF
Statistics
Abstract
Introduction and objective
Capillary malformations are the most common vascular malformations in childhood. The current treatment of choice is pulsed dye laser (PDL) therapy, but this frequently does not result in complete resolution. The search for alternative treatment strategies thus continues. In this study we describe our experience with the use of sequential dual-wavelength PDL and Nd:YAG laser therapy in patients with capillary malformations.
Material and methods
We conducted a retrospective, descriptive study of patients with capillary malformations treated with dual-wavelength PDL and Nd:YAG laser therapy between 2006 and 2011. Four dermatologists rated the effectiveness of treatment on a scale of 10 to 0. We also investigated the potential value of the following factors as predictors of better treatment response: sex, malformation size and color, and presence of associated hypertrophy. Adverse effects were also analyzed.
Results
We studied 71 patients and most of them experienced a statistically significant improvement after treatment. More favorable responses were observed for violaceous malformations, lesions with associated hypertrophy, and smaller lesions. Adverse effects were reported for 26.76% of patients, and the most common effect was the appearance of isolated areas of skin atrophy.
Conclusions
We consider that sequential dual-wavelength PDL and ND:YAG laser therapy is an effective alternative for treating capillary malformations in selected patients.
Keywords:
Sequential dual-wavelength
Capillary malformation
Pulsed dye laser
Nd:YAG laser
Laser treatment
Resumen
Introducción y objetivo
Las malformaciones capilares son las malformaciones vasculares más frecuentes en la infancia. El tratamiento de elección sigue siendo el láser de colorante pulsado (LCP), sin embargo, la resolución completa con este habitualmente no se consigue, motivo por el que se siguen buscando otras alternativas terapéuticas. En este estudio comunicamos nuestra experiencia con el láser dual secuencial de LCP y Nd:YAG.
Material y métodos
Se efectuó un estudio retrospectivo y descriptivo de los pacientes con malformaciones capilares tratados con el láser dual de LCP y Nd:YAG desde 2006 hasta 2011. Cuatro dermatólogos valoraron el grado de eficacia en una escala del 10 al 0. Se analizó la posibilidad de factores predictores de mejor respuesta al tratamiento: sexo, color de la lesión, existencia de hipertrofia asociada y tamaño de la malformación. Se recogieron igualmente los efectos secundarios.
Resultados
Se incluyeron 71 pacientes, presentando el conjunto de ellos una mejoría estadísticamente significativa tras el tratamiento. Las malformaciones de coloración violácea que tenían hipertrofia asociada y las de menor tamaño se asociaron con una mejor respuesta. Se produjeron efectos adversos en un 26,76% de los pacientes, siendo la presencia de zonas atróficas puntuales el más frecuente.
Conclusiones
Consideramos que el láser dual de LCP y Nd:YAG es una alternativa eficaz para el tratamiento de malformaciones capilares en paciente seleccionados.
Palabras clave:
Doble longitud de onda secuencial
Malformación capilar
Láser de colorante pulsado
Láser de Nd:YAG
Tratamiento láser
Article
These are the options to access the full texts of the publication Actas Dermo-Sifiliográficas (English Edition)
Subscribe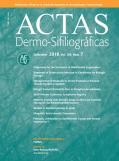 Subscribe to
Actas Dermo-Sifiliográficas (English Edition)
Contact
Telephone
From Monday to Friday from 9 a.m. to 6 p.m. (GMT + 1) except for the months of July and August which will be from 9 a.m. to 3 p.m.
Calls from Spain
902 88 87 40
Calls from outside Spain
+34 932 418 800
E-mail