Article information
Abstract
Full Text
Bibliography
Download PDF
Statistics
Abstract
Introduction
Cutaneous leiomyosarcoma is a malignant neoplasm derived from smooth muscle cells. Its low incidence hampers the development of specific protocols for diagnosis and treatment.
Objectives
To describe the clinical and histopathologic characteristics of a series of primary and secondary cutaneous leiomyosarcomas and to determine how these characteristics correlate with prognosis.
Material and methods
We performed an observational, descriptive, retrospective study based on 17 cutaneous leiomyosarcomas in 12 patients diagnosed between January 1, 2000 and December 31, 2015. We recorded demographic data, clinical and histopathologic characteristics, outcome, and response to treatment.
Results
We included 5 men and 7 women, all aged more than 50 years at diagnosis. There were 4 cutaneous leiomyosarcomas (23%) in 4 patients, 2 subcutaneous leiomyosarcomas (11.5%) in 2 patients, and 11 skin metastases of leiomyosarcoma (65%) in 6 patients. The most frequently affected sites were the scalp (41%), lower limbs (17%), and trunk (17%). During follow-up, 50% of the cutaneous leiomyosarcomas recurred, 50% of the subcutaneous leiomyosarcomas presented distant metastases, and 83% of the patients with skin metastases of leiomyosarcoma died of their disease.
Limitations
Ours was a retrospective review of a small case series at a single center.
Conclusions
Cutaneous leiomyosarcoma is an uncommon malignant neoplasm. Our approach to diagnosis and therapy must take into account the marked heterogeneity in the prognosis of the various subtypes.
Keywords:
Leiomyosarcoma
Soft tissue
Sarcoma
Cutaneous metastasis
Atypical intradermal smooth muscle neoplasm
Resumen
Introducción
El leiomiosarcoma de piel es una neoplasia maligna de estirpe muscular cuya baja incidencia dificulta el desarrollo de protocolos específicos de diagnóstico y manejo terapéutico.
Objetivos
Describir las características clínicas e histopatológicas de una serie de leiomiosarcomas cutáneos primarios y secundarios, junto con su correlación pronóstica.
Material y métodos
Se realizó un estudio retrospectivo, descriptivo y observacional. Se seleccionaron 17 casos de leiomiosarcoma cutáneo en 12 pacientes, diagnosticados entre el 1 de enero de 2000 y el 31 de diciembre de 2015. Se recogieron sus datos demográficos, características clínicas e histopatológicas, evolución y respuesta al tratamiento.
Resultados
Se reclutaron 5 varones y 7 mujeres, todos ellos mayores de 50 años al diagnóstico. Se recogieron 4 leiomiosarcomas dérmicos (4/17, 23%) en 4 pacientes, 2 leiomiosarcomas hipodérmicos (2/17, 11,5%) en 2 pacientes, y 11 metástasis cutáneas de leiomiosarcoma (11/17, 65%) en 6 pacientes. Las localizaciones más frecuentes fueron cuero cabelludo (7/17, 41%), miembros inferiores (3/17, 17%) y tronco (3/17, 17%). Durante el seguimiento, un 50% de leiomiosarcomas dérmicos recidivaron, un 50% de leiomiosarcomas hipodérmicos presentaron metástasis a distancia y 5/6 pacientes con metástasis cutáneas de leiomiosarcoma (83%) fallecieron a causa de su enfermedad.
Limitaciones
Este estudio es una revisión retrospectiva de una serie de casos de tamaño limitado en un centro único.
Conclusiones
El leiomiosarcoma cutáneo es una neoplasia maligna poco frecuente. A la hora de adoptar una actitud diagnóstico-terapéutica en estos pacientes debemos tener en cuenta la marcada heterogeneidad pronóstica entre sus diferentes subtipos.
Palabras clave:
Leiomiosarcoma
Partes blandas
Sarcoma
Metástasis cutánea
Neoplasia atípica intradérmica de músculo liso
Article
These are the options to access the full texts of the publication Actas Dermo-Sifiliográficas (English Edition)
Subscribe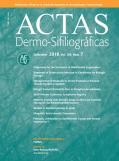 Subscribe to
Actas Dermo-Sifiliográficas (English Edition)
Contact
Telephone
From Monday to Friday from 9 a.m. to 6 p.m. (GMT + 1) except for the months of July and August which will be from 9 a.m. to 3 p.m.
Calls from Spain
902 88 87 40
Calls from outside Spain
+34 932 418 800
E-mail