Article information
Abstract
Full Text
Bibliography
Download PDF
Statistics
Abstract
Introduction
Clinical research is the study of patients with the aim of improving care. Our objectives were to calculate the percentage of presentations at territorial section meetings of the Spanish Academy of Dermatology and Venereology (AEDV) that described clinical research, to assess the level of evidence the research provided, and to analyze change in clinical research volume over time.
Material and methods
We reviewed supplements of the journal Actas Dermo-Sifiliográficas for 2000 through 2015 that contained abstracts of presentations given at the AEDV section meetings in Galicia; the area comprising Asturias, Cantabria, and Castile-Leon (ACCL); and Andalusia. We selected abstracts that met a previously validated definition of clinical research and categorized each according to level of evidence. We also analyzed how the weight of clinical research presentations changed over time.
Results
Of the total of 1,188 presentations, 29.6% met the criteria that defined clinical research. Most provided level-4 evidence (95.2%); 44.2% of those presentations reported cross-sectional studies and 55.8% analyzed case series. Clinical research accounted for 26.6% of the presentations in Galicia (94.7% of them, level 4), 22.7% of those at the ACCL meeting (97.6%, level 4), and 37.2% of those in Andalusia (94.3%, level 4). The proportion of clinical research increased significantly over the years studied.
Conclusions
Clinical research accounted for 29.6% of the communications presented at the meetings we reviewed. Most of these presentations concerned case series or cross-sectional studies. The prevalence of clinical research presentations differed between the 3 territories studied, but the levels of evidence were similar. The proportion of clinical research in the programs of these meetings has increased over time.
Keywords:
Congresses as topic
Dermatology
Clinical research
Professional meetings
Scientific societies
Resumen
Introducción
La investigación clínica (IC) se centra en el estudio de los pacientes para mejorar su atención. Nuestro objetivo fue conocer qué porcentaje de las comunicaciones presentadas a las reuniones de tres secciones territoriales de la AEDV cumplen criterios de IC, su nivel de evidencia y su evolución temporal.
Material y métodos
Se revisaron las comunicaciones científicas de las reuniones territoriales gallega, astur-cántabro-castellano-leonesa (ACL) y andaluza publicadas en los suplementos de la revista Actas Dermo-Sifiliográficas (años 2000-2015). Utilizando una definición de IC previamente validada, se estableció cuáles de los resúmenes se ajustaban a dicha definición, se determinó su nivel de evidencia y la evolución temporal del porcentaje de estudios de investigación.
Resultados
De las 1.188 comunicaciones analizadas, el 29,6% cumplieron criterios de IC. La mayoría correspondían a un nivel de evidencia4 (95,2%), distribuidos en un 44,2% de estudios transversales y un 55,8% de series de casos. La prevalencia de la IC en las secciones gallega, ACL y andaluza fue del 26,6% (94,7%, nivel 4), del 22,7% (97,6%, nivel 4) y del 37,2% (94,3%, nivel 4), respectivamente. El porcentaje de trabajos de IC aumentó significativamente a lo largo de los años.
Conclusiones
La IC representa el 29,6% de las comunicaciones en las reuniones evaluadas. La mayoría de los trabajos corresponden a series de casos y estudios transversales. Los territorios estudiados muestran diferencias en cuanto al porcentaje de IC, pero siguen una distribución similar de los niveles de evidencia. En el periodo de tiempo evaluado, el porcentaje de comunicaciones sobre IC se ha incrementado.
Palabras clave:
Congresos
Dermatología
Investigación clínica
Reuniones
Sociedades científicas
Article
These are the options to access the full texts of the publication Actas Dermo-Sifiliográficas (English Edition)
Subscribe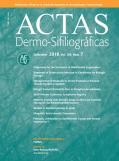 Subscribe to
Actas Dermo-Sifiliográficas (English Edition)
Contact
Telephone
From Monday to Friday from 9 a.m. to 6 p.m. (GMT + 1) except for the months of July and August which will be from 9 a.m. to 3 p.m.
Calls from Spain
902 88 87 40
Calls from outside Spain
+34 932 418 800
E-mail