NOTICE Undefined index: ITEM (includes_ws_v2/contenidos/item.php[33])

NOTICE Undefined index: ITEM (includes_ws_v2/contenidos/item.php[37])

NOTICE Undefined index: ITEM (includes_ws_v2/contenidos/item.php[38])

NOTICE Undefined index: ITEM (includes_ws_v2/contenidos/item.php[39])

NOTICE Undefined index: ITEM (includes_ws_v2/contenidos/item.php[44])

NOTICE Undefined index: ITEM (includes_ws_v2/contenidos/item.php[48])

NOTICE
Undefined index: ITEM (includes_ws_v2/librerias/html/item.php[1586])
NOTICE
Undefined index: ITEM (includes_ws_v2/librerias/html/item.php[1586])
NOTICE
Undefined index: ITEM (includes_ws_v2/librerias/html/item.php[1586])
NOTICE
Undefined index: ITEM (includes_ws_v2/librerias/html/item.php[1595])
NOTICE
Undefined index: ITEM (includes_ws_v2/librerias/html/item.php[1595])
NOTICE
Undefined index: MOSTRAR_MAS (includes_ws_v2/librerias/html/item.php[1660])
NOTICE
Undefined index: MOSTRAR_MENOS (includes_ws_v2/librerias/html/item.php[1660])
NOTICE
Undefined index: MOSTRAR_MAS (includes_ws_v2/librerias/html/item.php[1660])
NOTICE
Undefined index: MOSTRAR_MENOS (includes_ws_v2/librerias/html/item.php[1660])
(2)
Table 1. Most Frequent Keywords in the Articles Analyzed With Reference to Skin Diseases, Classified According to Their Presence in the Title, Keywords Assigned by the Journal, and Keywords Assigned by the Author, and Most Frequent Keywords that Make Reference to Skin Diseases of Articles With Most Number of Citations.
Abstract
Background and objective
Bibliometric indicators provide a useful measure of the number of clinical research articles published in scientific journals and their quality. This study aimed to assess the amount and quality of research carried out in Spanish dermatology centers and to describe the research topics.
Material and method
Bibliometric study of clinical research articles that met the inclusion criteria and had a definitive publication date between 2005 and 2014 in MEDLINE or Embase in which the corresponding author's affiliation was a Spanish hospital dermatology department or other center.
Results
Of 8,617 articles found, 1,104 (12.81%) met the inclusion criteria. The main reason for excluding articles was that they did not have an evidence level of 4 or better. The main vehicle for reporting was the journal Actas Dermosifiliográficas, which published 326 articles (29.53%). Melanoma, the disease the researchers studied most often, accounted for 134 articles (12.13%).
Limitations
A limitation to bear in mind when interpreting the results is that we relied on the corresponding author's affiliation to identify articles reflecting research from a Spanish dermatology center. Thus, studies in which dermatologists participated would not be recognized if they were directed by other specialists.
Conclusion
Only a small portion of articles published from Spanish dermatology centers can be considered clinical research, mainly because many publications provide a low level of scientific evidence. Most publications are case reports.
Keywords:
Bibliometrics
Biomedical research
Clinical research
Spanish dermatology
Scientific evidence
Resumen
Antecedentes y objetivo
Los artículos de investigación clínica publicados en revistas científicas y los indicadores bibliométricos que de ellos derivan son un método útil para medir la cantidad y la calidad de la investigación clínica realizada. El objetivo de este estudio es conocer la cantidad, calidad y temática de la producción científica de centros e instituciones de dermatología españoles.
Material y método
Estudio bibliométrico de los artículos de investigación clínica con fecha definitiva de publicación entre el año 2005 al 2014, ambos inclusive, en las bases de datos Medline o Embase, en cuya dirección de autor de correspondencia figure un centro o institución de dermatología española y que cumplan los criterios de investigación clínica en dermatología.
Resultados
De los 8.617 artículos encontrados, 1.104 (12,81%) cumplieron los criterios de inclusión. El principal criterio de exclusión —67,37% de los artículos—fue tener un nivel de evidencia científico mayor de 4. La revista en la que se publicaron más artículos fue Actas Dermosifiliográficas con 326 artículos (29,53%). La enfermedad con un mayor número de artículos fue el melanoma, con 134artículos (12,13%).
Limitaciones
El criterio para atribuir una publicación científica a una institución dermatológica española en función de la dirección del autor de la correspondencia hace que estudios en los que participan dermatólogos que trabajan en estudios dirigidos por instituciones no dermatológicas no sean incluidos.
Conclusiones
Solo una pequeña proporción de los artículos que publican las instituciones de dermatología españolas pueden ser considerados investigación clínica. El principal motivo es el bajo nivel de evidencia científica. La mayoría de las publicaciones son reportes de casos clínicos.
Palabras clave:
Bibliometría
Investigación biomédica
Investigación clínica
Dermatología española
Evidencia científica
NOTICE Undefined index: ITEM (includes_ws_v2/contenidos/item.php[286])

NOTICE Undefined index: P1 (includes_ws_v2/modulos/cuerpo/ayuda-acceso-item.php[1])

NOTICE Undefined index: SUSCRIPTOR (includes_ws_v2/modulos/cuerpo/ayuda-acceso-item.php[21])

NOTICE Undefined index: SUSCRIPTOR_P1 (includes_ws_v2/modulos/cuerpo/ayuda-acceso-item.php[22])

NOTICE Undefined index: SUSCRIBIR (includes_ws_v2/modulos/cuerpo/ayuda-acceso-item.php[27])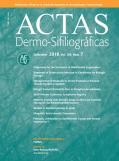 NOTICE Undefined index: SUSCRIBIRSE (includes_ws_v2/modulos/cuerpo/ayuda-acceso-item.php[32])

Actas Dermo-Sifiliográficas (English Edition)
NOTICE Undefined index: CONTACTAR (includes_ws_v2/modulos/cuerpo/ayuda-acceso-item.php[44])

NOTICE Undefined index: TELEFONO (includes_ws_v2/modulos/cuerpo/ayuda-acceso-item.php[46])

NOTICE Undefined index: CONTACTAR_P1 (includes_ws_v2/modulos/cuerpo/ayuda-acceso-item.php[47])

NOTICE Undefined index: LLAMADAS_ESP (includes_ws_v2/modulos/cuerpo/ayuda-acceso-item.php[50])

902 88 87 40
NOTICE Undefined index: LLAMADAS_EXT (includes_ws_v2/modulos/cuerpo/ayuda-acceso-item.php[54])

+34 932 418 800
E-mail