Article information
Statistics
Tables (6)
Table 2. Sociodemographic and Comorbidity Variables.
Table 3. Detail of Unit Costs and Work Productivity Lost (Year 2015).
Table 4. Baseline Characteristics of the Series by Study Group.
Table 5. Distribution of Clinical Variables and Concomitant and Specific Medication Prescribed During Follow-up by Study Group.
Table 6. Use of Resources and Health Care and Non–Health Care Costs (Unit Average) by Study Groupa
Abstract
Objective
To determine resource usage and costs associated with atopic dermatitis in adults according to severity and comorbid conditions in daily clinical practice.
Patients and methods
We performed an observational, retrospective study based on a review of registries of patients aged ≥18 years who sought health care in 2013 and 2014 in an area of Catalonia, Spain, with a population of 215,634 persons. We established 3 classes of severity depending on the treatment prescribed. The variables evaluated were total comorbid conditions, concomitant/specific medication, and direct/indirect health care costs. The statistical analysis was based on multiple regression models. Statistical significance was set at P<.05.
Results
We included 6,186 patients with a diagnosis of atopic dermatitis (mean age, 47.1 years; women, 61.6%). We established 3 groups based on severity, as follows: mild (n=3,445 [55.7%]); moderate (n=2,361 [38.2%]); and severe (n=380 [6.1%]). Severe atopic dermatitis was associated with risk of presenting comorbid conditions (β=0.192), namely, asthma (β=0.138), depression (β=0.099), cardiovascular events (β=0.087), obesity (β=0.085), and smoking (β=0.025); P<.001. Costs reached €9.3 million (health care costs, 75.5%; loss of productivity, 24.5%), with an average unit cost of €1,504 per year. The corrected average unit cost (ANCOVA) was greater in severe atopic dermatitis compared with moderate and mild disease (€3,397 vs €2,111 vs €885; P<.001), respectively.
Conclusions
Severe atopic dermatitis generates considerable usage of health care resources and high costs for the National Health System. These are in proportion with the severity of the disease. General comorbid conditions and asthma were the factors with the greatest impact on health care costs.
Keywords:
Atopic dermatitis
Resource usage
Costs
Resumen
Objetivo
Determinar el uso de los recursos y los costes de la dermatitis atópica (DA) en adultos según su gravedad y las comorbilidades asociadas en situación de práctica clínica habitual.
Pacientes y métodos
Se efectuó un diseño observacional retrospectivo realizado a partir de la revisión de registros de pacientes ≥18años que demandaron asistencia durante 2013-2014 en un área geográfica de Cataluña con una población de 215.634 personas. Se constituyeron 3 grupos de gravedad en función del tratamiento prescrito. Las variables evaluadas fueron el conjunto de comorbilidades, la medicación concomitante/específica; y los costes sanitarios directos/indirectos. El análisis estadístico se elaboró mediante modelos de regresión múltiple, p<0,05.
Resultados
Se reclutaron 6.186 sujetos con diagnóstico de DA (edad-media: 47,1años; mujeres, 61,6%). En función de la gravedad de la DA se consideraron 3 grupos; el 55,7% leve (n=3.445), el 38,2% moderada (n=2.361) y el 6,1% grave (n=380). La DA grave se asoció a la probabilidad de presentar comorbilidades (β=0,192); específicamente: asma (β=0,138), depresión (β=0,099), eventos cardiovasculares (β=0,087), obesidad (β=0,085) y hábito tabáquico (β=0,025), p<0,001. El coste ascendió a 9,3 millones de euros (costes sanitarios: 75,5%; pérdidas de productividad: 24,5%), con un promedio/unitario de 1.504euros/año. Los promedios/unitarios corregidos (ANCOVA) fueron mayores en la DA grave en comparación con la moderada y la leve (3.397 vs 2.111 y 885 euros, respectivamente; p<0,001).
Conclusiones
La DA grave se asocia a una elevada utilización de recursos sanitarios y costes para el Sistema Nacional de Salud proporcional a la gravedad de la dermatosis. La comorbilidad general y el asma fueron los factores con mayor impacto asociado al coste sanitario.
Palabras clave:
Dermatitis atópica
Uso de recursos
Costes
Article
These are the options to access the full texts of the publication Actas Dermo-Sifiliográficas (English Edition)
Subscribe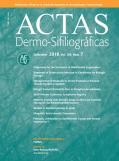 Subscribe to
Actas Dermo-Sifiliográficas (English Edition)
Contact
Telephone
From Monday to Friday from 9 a.m. to 6 p.m. (GMT + 1) except for the months of July and August which will be from 9 a.m. to 3 p.m.
Calls from Spain
902 88 87 40
Calls from outside Spain
+34 932 418 800
E-mail