Article information
Abstract
Full Text
Bibliography
Download PDF
Statistics
Abstract
Epidermolysis bullosa (EB) is a rare genetic disease that causes mucocutaneous fragility. It comprises a clinically and genetically heterogeneous group of disorder characterized by spontaneous or contact/friction–induced blistering. EB is classified into 4 types–simplex, junctional, dystrophic, and Kindler syndrome–and 30 subtypes. The disease is caused by defects in proteins implicated in dermal-epidermal adhesion. At least 19 genes have been characterized and more than 1000 mutations identified, thus rendering diagnosis complex. Molecular diagnosis of EB is the last stage of a laborious process that starts with a detailed clinical history compilation and careful procurement of a skin fresh biopsy that includes an area where the epidermis detaches from the dermis. The detachment area makes it possible to establish the cleavage plane by antigen mapping and, in the best scenario, to identify a single candidate gene to search for pathogenic mutations. The results of the molecular diagnosis enable the physician to provide appropriate genetic counseling (inheritance pattern, risk of recurrence, and options for prenatal and preimplantation diagnosis) and implement subsequent preventive programs, as well as to establish a reasonable clinical prognosis facilitating access to specific therapy and rehabilitation. Lastly, molecular diagnosis is essential for the participation of patients in clinical trials, a critical issue given the current incurable status of EB. The present guidelines aim to disseminate the procedure for diagnosing EB in our laboratory and thus avoid suboptimal or incomplete clinical diagnoses. The recommendations we provide are the result of more than 10 years' experience in the molecular diagnosis of EB in Spain.
Keywords:
Genodermatosis
Epidermolysis bullosa
Epidermolysis bullosa simplex
Epidermolysis bullosa junctional
Epidermolysis bullosa dystrophic
Kindler syndrome
Genetic diagnosis
Antigen mapping
Prenatal diagnosis
Preimplantation diagnosis
Resumen
La epidermólisis bullosa (EB), enfermedad genética de fragilidad mucocutánea rara y devastadora, es clínica y genéticamente heterogénea. Se caracteriza por la aparición de ampollas inducidas por contacto/fricción o de forma espontánea. La EB se clasifica en 4 tipos: simple, juntural, distrófica y síndrome de Kindler y en 30 subtipos. Esta genodermatosis está causada por defectos en proteínas implicadas en la adhesión dermoepidérmica, con al menos 19 genes caracterizados hasta el momento y más de 1.000 mutaciones identificadas, que explican la complejidad de su diagnóstico. El diagnóstico molecular de la EB es el último paso de un proceso laborioso que se inicia con la recogida de una historia clínica detallada y la toma de una biopsia cutánea, que incluya una zona de despegamiento entre la dermis y la epidermis inducida, en el momento de la recolección. Dicho despegamiento permite establecer el plano de rotura por mapeo antigénico y, en el mejor de los casos, un único gen candidato en el que realizar la búsqueda de las mutaciones patogénicas. Finalizado el diagnóstico molecular, se está en condiciones de ofrecer al paciente un asesoramiento genético adecuado (patrón de herencia, riesgo de recurrencia y opciones de diagnóstico prenatal y preimplantacional) y los consecuentes programas preventivos, así como un pronóstico clínico razonable que facilite su acceso a opciones terapéuticas y de rehabilitación específicas. Por último, el diagnóstico molecular es imprescindible para la participación de los pacientes en ensayos clínicos, de gran importancia en una enfermedad como la EB, que no tiene cura. El objetivo de la presente guía es difundir el procedimiento de diagnóstico de la EB tal y como se está llevando a cabo en nuestro laboratorio y, así, evitar diagnósticos clínicos subóptimos o incompletos. Las recomendaciones recogidas son fruto de nuestra experiencia de más de 10 años de diagnóstico molecular de EB en España.
Palabras clave:
Genodermatosis
Epidermólisis bullosa
Epidermólisis bullosa simple
Epidermólisis bullosa juntural
Epidermólisis bullosa distrófica
Síndrome de Kindler
Diagnóstico genético
Mapeo antigénico
Diagnóstico prenatal
Diagnóstico preimplantacional
Article
These are the options to access the full texts of the publication Actas Dermo-Sifiliográficas (English Edition)
Subscribe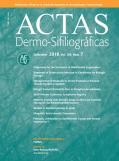 Subscribe to
Actas Dermo-Sifiliográficas (English Edition)
Contact
Telephone
From Monday to Friday from 9 a.m. to 6 p.m. (GMT + 1) except for the months of July and August which will be from 9 a.m. to 3 p.m.
Calls from Spain
902 88 87 40
Calls from outside Spain
+34 932 418 800
E-mail