Abstract
The diagnosis of pigmented actinic keratosis (PAK) is often challenging because of overlapping features with lentigo maligna.
Objective
To investigate dermoscopic patterns of PAK according to their different evolutionary stages, and to correlate the pattern with clinical characteristics of the patients.
Methods
Descriptive and analytical study of 232 PAK. Dermoscopic patterns were divided into two categories: the follicule surroundings
tm) abnormalities (FSA) and follicular keratosis
tm) abnormalities (FKA).
Results
FSA and FKA dermoscopic patterns were related to male gender, except for star-like appearance, double white clods and dermoscopic horn (p≤0.04). Rhomboidal, annular granular pattern, gray halo, white circle and double clods were dermoscopic pattern significantly related to xeroderma pigmentosum's type of skin. Based on the evolutionary stages of PAK, the jelly sign was significantly related to thin patches of PAK. Central crusts and scales were related to thick plaques and the star-like appearance to hypertrophic PAK. The presence of 2 or more dermoscopic signs in both FSA and FKA was noticed in 99.1% of lesions.
Conclusions
The dermoscopic diagnosis of PAK vary according to the evolutionary stages of the disease, this will increase the diagnosis accuracy, with therapeutic implications.
Keywords:
Pigmented actinic keratosis
Facial lesions
Melanoma
Non-melanoma skin cancer
Dermoscopy
Resumen
El diagnóstico de la queratosis actínica pigmentada (QAP) es a menudo difícil, debido a sus características, que se solapan con las propias del lentigo maligno.
Objetivo
Investigar los patrones dermatoscópicos de la QAP con arreglo a sus distintos estadios evolutivos, y correlacionar dicho patrón con las características clínicas de los pacientes.
Mèc)todos
Estudio descriptivo y analítico de 232 QAP. Se dividieron los patrones dermatoscópicos en 2 categorías; alteraciones perifoliculares (APF) y la queratosis folicular (QF).
Resultados
Se relacionaron los patrones dermatoscópicos de APF y QF con el sexo masculino, exceptuando las características de aspecto estrellado, double white clods y cuerno dermatoscópico (p≤0,04). Las características romboidal, anular-granular, de halo gris, círculo blanco y double clots constituyeron los patrones dermatoscópicos significativos relacionados con el tipo de piel del xeroderma pigmentoso. Sobre la base de los estadios evolutivos de la QAP, el signo de la jalea guardó relación significativa con los parches finos cutáneos de la QAP. Las costras y escamas centrales se relacionaron con las placas densas, y el aspecto estrellado de la QAP hipertrófica. La presencia de 2 o más signos dermatoscópicos, tanto en APF como en QF, se apreció en el 99,1% de las lesiones.
Conclusiones
El diagnóstico dermatoscópico de QAP varía con arreglo a los estadios evolutivos de la enfermedad, incrementándose la precisión diagnóstica, con implicaciones terapèc)uticas.
Palabras clave:
Queratosis actínica pigmentada
Lesiones faciales
Melanoma
Cáncer de piel no melanoma
Dermatoscopia
Article
These are the options to access the full texts of the publication Actas Dermo-Sifiliográficas (English Edition)
Subscribe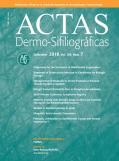 Subscribe to
Actas Dermo-Sifiliográficas (English Edition)
Contact
Telephone
From Monday to Friday from 9 a.m. to 6 p.m. (GMT + 1) except for the months of July and August which will be from 9 a.m. to 3 p.m.
Calls from Spain
902 88 87 40
Calls from outside Spain
+34 932 418 800
E-mail