Article information
Statistics
Tables (8)
Table 2. Patient Characteristics.
Table 3. Frequency and Percentage Distribution by Histologic Type and Subtype.
Table 4. Previous Treatments of Recurrent Tumors and Time Since Treatment.
Table 5. Presurgical Factors That Can Affect Healing.
Table 6. Mohs Micrographic Stages Required to Obtain Tumor-Free Margins.
Table 7. Size of Initial Tumors and Surgical defect after Mohs Micrographic Surgery.
Table 8. Reconstruction of Surgical Defects.
Abstract
Introduction
The Spanish Mohs Surgery Registry is used to collect data on the use and outcomes of Mohs micrographic surgery (MMS) in Spain. The aim of this study was to describe perioperative and intraoperative data recorded for MMS procedures performed between July 2013 (when the registry started) and January 2016.
Material and methods
Prospective cohort study of data from 18 hospitals. The data collected included type of anesthesia, surgical technique, hospital admission, number of Mohs stages, management of preoperative risk factors, additional treatments, previous treatments, type of tumor, operating time, and complications.
Results
Data were available for 1796 operations. The most common tumor treated by MMS was basal cell carcinoma (85.96%), followed by squamous cell carcinoma (6.18%), lentigo maligna (2.81%), and dermatofibrosarcoma protuberans (1.97%). Primary tumors accounted for 66.9% of all tumors operated on; 19.2% of tumors were recurrent and 13.9% were persistent. The most common previous treatment was surgical. MMS was mostly performed under local anesthesia (86.7% of cases) and as an outpatient procedure (71.8%). The frozen section technique was used in 89.5% of cases. One stage was needed to achieve tumor-free margins in 56.45% of patients; 2 stages were required in 32.1% of patients, 3 in 7.1%%, 4 in 2.7%, and 5 or more in 1.8%. The defect was reconstructed by the dermatologist in 98% of patients and the most common technique was flap closure (47.2%). Intraoperative complications were recorded for just 1.62% of patients and the median (interquartile range) duration of surgery was 75 (60-100) minutes.
Conclusion
The characteristics of the patients and tumors treated by MMS are similar to those reported for similar studies in other geographic areas. Lentigo maligna and dermatofibrosarcoma protuberans accounted for a higher proportion of cases in our series, and repair of the surgical defect by a dermatologist was also more common. Operating times in MMS are not much longer than those reported for other procedures and the rate of intraoperative complications is very low.
Keywords:
Mohs micrographic surgery
Basal cell carcinoma
Squamous cell carcinoma
Surgical excision
Resumen
Introducción
El Registro Español de Cirugía de Mohs recoge los datos de aplicación y resultados de esta técnica en España. Se describen los datos de las intervenciones realizadas desde el inicio del Registro en julio de 2013 a enero de 2016. Se analizan los datos de las cirugías tanto perioperatorios como intraoperatorios.
Material y métodos
Estudio de cohortes prospectivo en el que participan 18 centros. Se recogen los datos de las intervenciones quirúrgicas como tipo de anestesia, técnica quirúrgica, ingreso hospitalario, número de estadios, manejo de factores de riesgo preoperatorios, tratamientos complementarios, tratamientos previos, tipo de tumor, tiempo empleado en la cirugía y complicaciones.
Resultados
Se analizan 1.796 intervenciones quirúrgicas. El tumor intervenido con más frecuencia es el carcinoma basocelular (85,96%), seguido del carcinoma epidermoide (6,18%), lentigo maligno (2,81%) y dermatofibrosarcoma protuberans (1,97%). El 66,9% de los tumores eran primarios, el 19,2% recurrentes y el 13,9% persistentes. El tratamiento previo más frecuente fue quirúrgico. La cirugía de Mohs se realizó con más frecuencia bajo anestesia local (86,7%) y de forma ambulatoria (71,8%). En el 89,5% de los casos se utilizó la técnica de Mohs en congelación. El número de etapas requerido para alcanzar márgenes libres de tumor fue una en 56,45% de los pacientes, 2 en 32,1%, 3 en 7,1%, 4 en 2,7% y 5 o más en 1,8%. El propio dermatólogo reconstruyó el defecto en el 98% de los pacientes y la técnica reconstructiva más utilizada fue el colgajo (47,2%). Solo el 1,62% de los pacientes presentó alguna complicación intraoperatoria y la mediana de la duración de la cirugía fue 75 (p25:60-p75:100).
Conclusión
Las características de los pacientes y tumores tratados son similares a las descritas en estudios de las mismas características en otras áreas geográficas. Existe un porcentaje mayor de lentigo maligno y dermatofibrosarcoma protuberans. La reconstrucción la realiza el dermatólogo con más frecuencia que en otras series. El tiempo de utilización de quirófano no es mucho mayor que para otras técnicas y la tasa de complicaciones intraoperatorias es muy reducida.
Palabras clave:
Cirugía micrográfica de Mohs
Carcinoma basocelular
Carcinoma epidermoide
Extirpación quirúrgica
Article
These are the options to access the full texts of the publication Actas Dermo-Sifiliográficas (English Edition)
Subscribe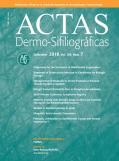 Subscribe to
Actas Dermo-Sifiliográficas (English Edition)
Contact
Telephone
From Monday to Friday from 9 a.m. to 6 p.m. (GMT + 1) except for the months of July and August which will be from 9 a.m. to 3 p.m.
Calls from Spain
902 88 87 40
Calls from outside Spain
+34 932 418 800
E-mail